Din New deciphering of Gobekli Tepe http://a9414495.eu5.org/origin/gobekli.html
Aceste semne sunt prezente in numar relativ mare.Problema semnificatiei lor a mai fost dezbatuta si este in continuare.Eu am avut o sugestie de apropiere cu semnul sumerian proto-cuneiform PA. https://cdli.ucla.edu/tools/SignLists/protocuneiform/archsigns.html
Sumerian Lexicon – Sumerian Language Pagewww.sumerian.org › sumerian << Lexicul sumerian a beneficiat de mai multe … (ńiš) pa: frunze, muguri, germeni; ramură; aripă; pană >> semnul Pa este compus din 2 semne PAP
Sumerian Lexicon – IS MUNIis.muni.cz › jaro2013 › PAPVB_13 › Halloran_version_3 The Sumerian lexicon has benefitted from several classes … pab, pap, pa4: father; brother; man; leader [PAP]
M-am bazat pe faptul ca o serie de semne au fost folosite in Orientul Apropiat cu mult inainte de aparitia proto-scrierii.Altfel semnele au o istorie care nu are capat inapoi in timp.Nu am fost pe deplin multumit si acum reiau problema.Foarte interesant este faptul ca eu am facut apropierea acestui semn cu constelatia Orion si cu faptul ca ar putea fi o ligatura a doua semne Tau, dar cu surprindere am constatat ca si altii au facut-o.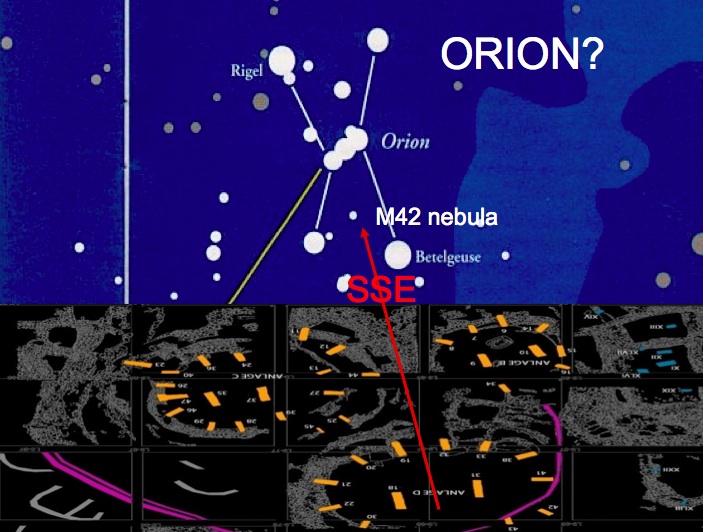 Am avut ideea sugubeata de a vedea daca sumerienii au folosit undeva doua semne Tau.Semnul T avand semnificatia "ME" .Am cautat sa vad daca au folosit doua semne ME.In monumente nu le-am gasit inca ligaturate sau nu, de fapt nici nu le-am prea cautat inca. In schimb le-am gasit in scris.Consider toate ipotezele ca fiind virtual valabile.Insa in prima parte o sa explicitez ipoteza mea "me-me" iar in a doua parte voi prezenta opiniile altora.
IPOTEZA MEA, 2T=H="ME-ME"
Din http://www.saradistribution.com/oldesttempleofworld.htm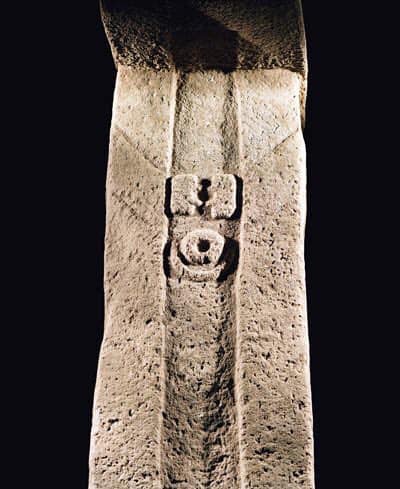 Vedeți mai bine Tau-ul ligaturat în semnele "I" ale GT, din următoarea imagine: http://thehiddenrecords.com/gobekli-tepe-taurus-bull sau de pe https://i.pinimg.com/564x/5c /d1/94/5cd194173a978386122812f338d685e8.jpg
Dublarea icoanelor este evidentă în existența stâlpilor principali dublati, altfel cei mai vechi ai G.T., stratul A. Dacă forma Tau ar putea fi relația cu viața și divinitatea, două Tau sunt un simbol nou; ce ar putea însemna? Să presupunem dublul aspect divin: relația cu viața de pământ și cu cerul. Atât a fost posibil sa fie cunoscut de ei si reprezentat întreg universul. Doar de câteva sute de ani umanii au aflat că cerul are de fapt o adâncime. Până atunci era imaginat ca un capac, acoperis al Pământului, care este figurat in portiunea liniei orizontale superioare a lui T. Deci T ar fi legatura vieții cu cerul și divinitatea și T-ul rasturnat legatura vieții cu Pământul. Rezulta ca prin pictograma H se realizeaza legatura vietii de pe Pamant cu Cerul, o poarta intre Cer si Pamant.
Din List of Mesopotamian deities – Wikipediahttps://en.wikipedia.org › wiki › List_of_Mesopotamian… << Deities in ancient Mesopotamia were almost exclusively anthropomorphic. They were thought … Both the Sumerian and Akkadian languages contain many words to express the … Ninkarrak, Meme, Bau, and Ninisina, is the Mesopotamian goddess of healing and the divine patroness of doctors and medicine-workers.>>
Din World's First Known Written Word at Göbekli Tepe on T-Shaped Pillar 18 Means God Manu Seyfzadeh, Robert Schoch Institute for the Study of the Origins of Civilization, College of General Studies, Boston University, Boston, MA, USA https://www.scirp.org/html/1-1140123_90367.htm?fbclid=IwAR1kPHutMJikYFQzqFqkiI5-QIx_aKfA5-oB2_LoBOVksqVAPe5C64HjyFs <<Susținerea în continuare a unei conexiuni lingvistice între hieroglifele luwiene și imaginile de la Göbekli Tepe sunt până în prezent simboluri luwiene netraduse asemănătoare cu iconografia în formă de T a lui Göbekli Tepe și un simbol asemănător cu H, care a fost cuvântul luwian pentru "poartă" >> Inca si mai mult, in lucrarea de mai sus se afirma ca simbolul H cu 2 semilune de pe pilonul G.T. seamana cu logograma luwiana 360 pentru zeu si ca atare semnifica cuvantul "ZEU"
Pictograma reprezentand poarta catre Univers / intreg Universul, acea pictogramă a fost folosită pentru a împodobi diferite elemente de piatră, astfel fiind utilizate cu diferite orientări. În niciun caz nu ne așteptăm ca sumerienii să copieze cu exactitate icoanele celor de la G.T., așa că nu este de mirare să nu găsim acest semn în forma identica la sumerieni.
Din www.researchgate.net › publication Rezultate de pe web (PDF) Ancient Near Eastern Gods Enki and Ea: Diachronical … Enki-Ninki Deities and the God Enki in Old- Sumerian Sources 46. 3.5. Enki in Old- Sumerian … ME.ME the me-s. dEN.KI (of? / to?) Ea. AL6.
www.jstor.org › stable The Accounts of the Origin of Writing from Sumer, Egypt and China – JStor me me available, first to gods, and then through them to the human world. So, if me are of divine origin, we have to admit that "the scribal art
babylonian-collection.yale.edu › …PDF The Exaltation of Inanna, by William W. Hallo and J. J. A. van Dijk. Yale … true that the colophons of Sumerian and Akkadian literary series-which correspond to the … R-imin-bi, 5: "totality of me's"; me-zi, 60. me-zu
ore.ac.uk › download › pdfPDF Nippur Bibliography – CORE 1 ian. 1992 — Barton, G. A. Sumerian Business and Administrative … Zettler, R. L. " The Genealogy of the House of Ur-me-me: A Second …
krieger2.jhu.edu › pdf › jcooper "Enlil and Namzitara" Reconsidered ["Enlil and Namzitara"] is a Sumerian variation of a well-known theme, … The Genealogy of the House of Ur–Me-me: a Second Look. AfO 31:.
hal.archives-ouvertes.fr › doc…PDF Masters' Writings and Students' Writings: School Material in … – HAL 7 apr. 2015 — learning cuneiform writing, Sumerian vocabulary and grammar, … The [ texts] in Sumerian and Akkadian, from A-A ME- ME.
etheses.bham.ac.uk › eprintPDF Stealing the Enemy's Gods: An Exploration of the Phenomenon of … accompanied by recitations of incantations in Sumerian and Akkadian; the incantations and the ritual … 23. me-me-ni ina IGI LUGAL
etcsl.orinst.ox.ac.uk › cgi-bin › etcsl The Electronic Text Corpus of Sumerian Literature … udun-mah-e du8-a-zu. 20. zar gu2-nida-am3 si sa2-sa2-am3. 21. munu4 sahar jar-ra a sig9- ga-zu. 22. ur me-me nam gam-gam-ma-am3
escholarship.org › content Rezultate de pe web UNIVERSITY OF CALIFORNIA, SAN DIEGO Death… eScholarship.org The Electronic Text Corpus of Sumerian Literature, Black … me-me) noble guard (gam-gam- ma-am3) it even from the potentates (?)" ( ETCSL …
www.researchgate.net › publication (PDF) Ancient Near Eastern Gods Enki and Ea: Diachronical … Enki-Ninki Deities and the God Enki in Old- Sumerian Sources 46. 3.5. Enki in Old- Sumerian … ME.ME the me-s.
Daca la sumerieni exista semnul si notiunea ME, ei fac referire la faptul ca existau si foloseau mai multe, o multime de ME. Multimea cunostintelor, totalitatea lor reprezenta cunostintele lor despre intregul Univers, cel terestru, si cel ceresc, cu totul fiind demn de o adanca admiratie si respect, astfel de factura divina.
Din HAMLЕT MARTIROSYAN. THЕ LION CHARACTЕR THЕ PETROGLYPHS OF SYUNIK AND THЕ ANCIENT WORLD https://www.academia.edu/12277907/Lion_Character_in_the_Petrogliphs_of_Syuniq_and_the_Ancient_World << Tot ce s-a spus mai sus cu privire la uși arată că, în percepțiile mitologice ale viziunii lumii antice, ușile care leagă diferite lumi erau printre cele mai importante elemente ale ordinii mondiale. Pe scurt, dacă nu există ușă, nu există nici o modalitate de a comunica cu Divinitatea. Acest simbol al viziunii mitologice a lumii a ușilor sau coloanelor care formează ușile a fost dezvoltat devreme și vedem cele mai vechi surse ale sale în complexul templelor de la Portasar (Göbekli Tepe) (X mileniu î.Hr.) și petroglifele Syunik (înainte de mileniul XIII î.Hr.) Anumite fapte indică faptul că diferiți zei aveau numere și forme diferite de porți. Am văzut mai sus că putem interpreta stelele în formă de T de la Portasar (G.Tepe) [imaginea 61, prima imagine] ca ideograme obiective cu semnificația "deschidere, ușă, poartă". De asemenea, am văzut că mult mai târziu, ideograma a fost utilizată cu același sens atât în ​​Sumer, cât și în Egipt 82 ( Sumer., caracterul T = ME și Egipt. T = rw = "ușă" hieroglifică). Aceste și alte fapte referitoare la Portasar/G.Tepe prezentate mai sus (cavitatea ușii sculptate din piatră monolită cu sculpturi de leu pe coloane, coloanele gemene ale templului subteran cu imagini de leu) atestă faptul că la Portasar/G.Tepe ușile aveau o semnificație ritual-religioasă importantă și erau legate la închinarea la niste zeitati specifice. >>