Chiar eram pe punctul de a scrie un articol cu intentia de a demonstra ca autenticitatea tabletelor de la Tartaria nu se susține, având mai mult de 50 de argumente pentru aceasta, contra numai 10 împotrivă. Dar recitind articolul profesorului iesean Attila Laslo: "Cui bono? Gândul pentru reconsiderarea tabletelor de la Tartaria" în care acesta răspunde acuzațiilor asiriologului Erika Qasim cu privire la arheologi și tabletele în sine. Qasim, Erika: Die Tărtăria-Täfelchen – eine Neubewertung. In: Das Altertum, ISSN 0002-6646, vol.58, 4 (2013),p. 307–318 Vedeti: ACADEMIE ROUMAINE INSTITUT D'ARCHEOLOGIE « V. PARVAN » DACIA REVUE D'ARCHEOLOGIE ET D'HISTOIRE ANCIENNE NOUVELLE SÉRIE LX 2016 Cui bono? THOUGHTS ABOUT A "RECONSIDERATION" OF THE TĂRTĂRIA TABLETS ATTILA LÁSZLÓ* http://www.daciajournal.ro › …PDF Rezultate de pe web of the Tărtăria tablets – Dacia
Pasajele (dintre cele referitoare la semne) care m-au convins: << În opinia ei (Masson, E. 1984 L 'écriture dans les civilisations danubiennes néolithiques. Kadmos 23, 2, 89-123. Berlin & New York.), <<…chiar dacă locația, data și condițiile descoperirii tabletelor rămâne nesigura până la clarificări suplimentare, examinarea atentă a tabletelor, existența urmelor de uzura pe suprafața lor, de exemplu, atestă faptul că nu erau falsuri: "… Pe tabletele 1 și 2, observăm semne speciale de uzură, părți ale semnelor puțin decolorate sau frecvente fisuri în jurul gravurilor. Astfel de fenomene mărturisesc vechimea; dacă ar fi falsuri, fabricarea lor ar fi atribuită unui mare expert în domeniu, în același timp o înțelegere fină a scrierilor arhaice pe care România nu le are la cunoștința mea "53. Un alt fapt poate fi adăugat la aceste observații: în cazul unui fals, falsificatorul s-ar fi străduit să producă un obiect cât mai fidel posibil modelului mesopotamian pe care dorea să-l imite, ar fi avut grijă să aleagă materie primă de calitate, și să respecte formatul tabletelor (care nu ar fi trebuit perforate și arse), să aplice tehnicile de scriere corespunzătoare (prin impresie) și să reproducă unele dintre cele mai caracteristice semne. De asemenea, el ar fi avut grijă să asigure documentația de excavare adecvată pentru a preveni suspiciuni ulterioare cu privire la circumstanțele descoperirii.
Dincolo de aceste argumente logice, observațiile de fapt care atestă autenticitatea (caracterul antic) al
tabletelor, dintre care unele au fost deja menționate mai sus, sunt decisive. De asemenea, trebuie remarcat faptul că existența unei acoperiri calcaroase pe suprafața tabletelor, care a trebuit îndepărtată pentru a face vizibile semnele, a fost o dovadă reală a faptului că obiectele au rămas sub pământ o suficienta de lunga perioada, de timp pentru a putea forma acumularea de calcar. ….. Până la efectuarea unor astfel de analize, observația rezultată din investigațiile microscopice recente pe suprafața tabletelor, conform căreia, în conturul canelat al unora dintre semnele de pe tablete, s-au găsit urme de sol, rămâne decisiv: "Examinarea atentă a tabletelor indică rămășițe de
sol în conturul mai multor semne […] Solul amestecat cu roci și minerale poate proveni doar din groapa ritualică. Acesta este un alt element faptic în favoarea afirmației privind autenticitatea artefactelor inscripționate. Prezența solului încapsulat exclude acuzațiile că sunt un fals modern neidentificat de N. Vlassa sau doar un "joc" al descoperitorului " (sublinierea mea, A. L.). >> eugenrau: A. Laszlo a fost prezent la săpături chiar în ziua în care au fost găsite tablete, dar ciudat, total inexplicabil, nu le-a văzut (!?). Argumentele sale din articolul Qui bono? ….. mi-au schimbat din nou părerea și m-au convins că tabletele nu sunt contrafăcute. (M-am răzgândit înainte, alternativ de mai multe ori, pana a fi convins ca tablitele sunt autentice și nu contrafăcute.) Ca sa fiu sincer, articolul său ar putea fi în principal o reacție reflexă de aparare. Pentru apărarea și susținerea întregii activități a arheologilor participanti atunci la sapaturile sitului Tartaria-Lunca, lucrări care au fost criticate fără milă și au fost avansate grave acuzații.Tabletele nu sunt contrafăcute, dar în același timp nu sunt sumeriene originale, foarte vechi. Tabletele sunt reale, au fost inscriptionate de cineva și în această perspectivă sunt "autentice". De obicei, un scrib folosea de obicei semnele folosite uzual în timpul și zona sa, ceea ce cu siguranță nu este cazul aici. Dar vă voi arăta dovezile că tablitele nu sunt mai vechi de 2.000 î.e.n. ! Un scrib nu poate nici cunoaște și nici utiliza la un moment dat semne care au fost inventate sute de ani mai târziu. ! … Cum este cazul aici, unde pe tableta rotundă, întregul rând superior conține semne surprinzator de noi : pe partea stângă, un tip de H (o scară cu 3 trepte) și în dreapta, unele D-uri și O-uri. ————- Semne cu exact această formă nu exista printre semnele proto-cuneiforme sumeriene. Sumerienii foloseau semnul proto-cuneiform Ku care are o formă "încasetata". Din From https://cdli.ucla.edu/tools/SignLists/protocuneiform/archsigns.html
Semnul următor este GAR, adică ninda = "rație, pâine"
———- Deci, dacă consideram ca avem de-a face cu tablete de factura sumeriana, aceste semne nu ar trebui să fie prezente pe tablete. Rețineți faptul că pe tablita, "H" are o formă "deschisă" și bare verticale decalate, iar D este litera noastră /latina de tipar D.
Prima oara acest semn "H" apare exact în aceeași formă în scrierile hieroglifica Cretana și Lineare A si B (2.000 î.Hr. ca semn Pa3) și mai târziu în vechea scriere canaanita/ feniciana, ca semn Cheth / Heth (1.500 î.Hr.).
Privitor la semne cu forma D, cel mai vechi semn cu forma asemanatoare este:
Unii cercetători au spus că "scribul" a imitat semnele sumeriene pentru numere (A.Falkenstein: D = 1 și o = 10), iar alții au spus că semnele D imita reprezentarea rațiilor, pâinilor sau ca secventa DDoc reprezinta fazele lunii (M.Merlini).
Oricum, scribul cunostea bine semnele care se foloseau deja în jurul său, nu trebuia să inventeze niciunul dintre aceste semne asa, instantaneu "pe loc". Semnul D a fost folosit pentru litere (D si R) mai târziu în greacă arhaică (850 î.e.n.) și puțin mai târziu in alfabetele Anatoliene. Din Chapter 8 Europe-II – The Unicode Standard, Version 13.0 << Vechile alfabete anatoliene Lycian, Carian și Lydian datează toate din primul mileniu î.e.n. și au fost folosite pentru a scrie diferite limbi indo-europene antice din vestul și sud-vestul Anatoliei >> ———– Deci, semnele de pe tablete nu trebuie să aibă o origine obligatoriu sumeriană și nici scribul să fie un sumerian nativ. Pentru ca altfel, multe din semnele de pe tablete pot fi găsite în toate scrierile Egeene și în scrierile Anatoliene. Deci, locul și timpul originii ar putea fi mai degrabă zona Egee (Creta? 2.000 -500 î.e.n.) sau Anatolia. (200 î.e.n.-500 d.Hr.)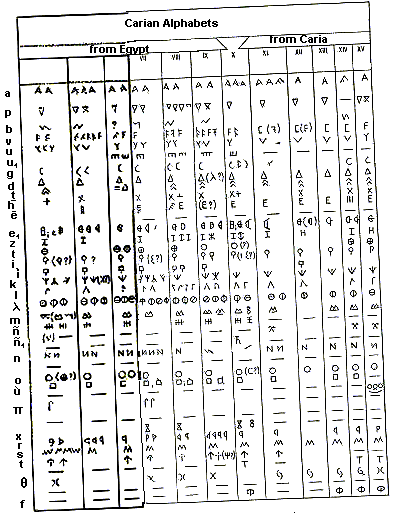 AVEM MULTE SEMNE PE TABLETE DIN ALFABETELE ARHAICE GRECEȘTI ȘI ANATOLIENE, INCLUSIV FOARTE PROBLEMATICE, AMBELE SEMNE H si D ! Mă întreb dacă unele pictograme și ideograme (de origine sumeriană) ar fi putut fi transmise de-alungul timpurilor, chiar cu semnificații pierdute dar poate utilizate în ritualuri?
———— Dacă nu luam semnele "H" și D-s ca fiind arhaice Grecești sau Anatoliene, ci ca semne ce le imita pe cele proto-cuneiforme sumeriene, atunci întregul conținut al tabletelor pare pe de-antregul sumerian. De aceea savanții A.Falkenstein, A.A.Vaiman și R.Kolev le-au interpretat ca si cum ar fi sumeriene. Primii doi, au realizat de la bun inceput că scribul este ezitant, iar semnele nu sunt sumeriene propriu-zis, ci ca-si-sumeriene. Chiar și titlul uneia din lucrări expliciteaza acest aspect: http://www.archeo.ru ›izdaniya-1Археологические вести. Спб, 1994. Вып. 3. Аннотации.A. A. Vaiman. On the Quasi-Sumerian tablets from Tartaria. Cu această înțelegere au interpretat tabletele ca fiind sumeriene. A. Falkenstein a remarcat faptul că unele semne nu sunt exact precum cele proto-cuneiforme, ci doar imitat-sumeriene, asemănător-sumeriene. Semnele proto-cuneiforme sumeriene au fost utilizate pentru o perioadă de timp relativ scurtă (3.500-3.000 î.Hr.), apoi de la 3.000 î.Hr. până în 1935 niciun ochi uman nu le-a văzut. Pentru că au stat ascunse privirii, îngropate la câțiva metri sub pământ (sub templu Eanna, Uruk). Astfel, difuzarea acestor semne a fost cumva limitată. Vedeti expansiunea culturii Uruk: https://www.researchgate.net/figure/Expansion-territorial-de-la-cultura-de-Uruk-aubet-2007_fig2_269696365
Pe harta se vede ca cultura Uruk, descoperitoarea scrisului, nu s-a extins pana in interiorul Anatoliei ori ariei Egeene. ——- Scribul cu siguranță nu era sumerian, mai degrabă negustor din Marea Egee sau Anatolia, (…sau poate cineva dintr-un loc foarte apropiat ?). Falkenstein si Vaiman dar si eu, toti am constatat ca interpretarea semnelor nu conduce la un mesaj consistent; unele semnificații sunt unice, semnificatia reieșind din semnele în sine. – Nu am nicio explicație pentru intenția scribului de a arăta semne asemănătoare celor sumeriene. Sau: – Nu voi înțelege niciodată motivația, ce l-a determinat, ambitia scribului de a arăta cuiva cum a evoluat scrisul de-a lungul timpului sau să arate câte semne sumeriene știe. ——– Am căutat în amanunt, suspectand o multime de persoane, continuand să cercetez în detaliu, și după ce le-am tot cantarit, am ajuns în cele din urmă la aceeași concluzie cu Emilia Masson: "Dacă ar fi fost falsuri, fabricarea lor ar fi fost atribuită unui mare expert în domeniu. , în același timp, un bun cunoscător al scrierilor arhaice pe care, după știința mea, România nu ii are " eugenrau: … Dacă am cauta cai verzi pe pereti, atunci desigur, putem vedea inclusiv fazele lunii, dar un epigrafist trebuie să respecte niste principii si reguli și să caute semne apartinand unor sisteme de scriere. Așa cum au si făcut în mod firesc savantii Adam Falkenstein și Aizik Abramovich Vaiman.