Atentie!                                                                                                                                                       Aceasta postare nu este o o descifrare sau citire a unui presupus continut scris real. Avand in vedere ca semnele nu apartin unui unic sistem de scris ci mai multora, pagina are un caracter pur didactic. Are rolul de a incerca si testa diferite scrieri in idea ca pe tablite s-ar fi folosit unul din ele. Semnele de pe tablite apartin mai multor sisteme de scrisi dintr-larg interval de timp si care au folosite in diferite arii geografice. In niciuna din incercari semnele nu s-au incadrat intr-un singur tip de scriere, totdeauna au ramas semne care au provenit din alte scrieri (sau din necunoscut). Cele mai multe semne provin din cele sumeriene proto-cuneiforme.Apoi privind asemanarea, in ordine descrescatoare este aceea cu semnele Linear A/B si cele Anatoliene. Semnele din jumatatea superioara a tablitei rotunde par a proveni din scrierea arhaica greceasca.Cel mai degraba aceasta "adunatura" de semne pare a fi rodul imaginatiei bogate a cuiva.Dupa cum au constatat A.Falkenstein si A.A.Vaiman, (aceasta fiind si parerea mea ferma) autorul nu a fost un scrib, avea doar vagi notiuni privind scrisul in general si nu se stie ce a urmarit. Exista multe elemente de neconcordanta precum si altele care scot tablitele din tiparele si normele uzuale ale  logicii, scrisului si intentiilor oneste.
======                                                                                                                                                           Divertisment curios-dubios, sau loc de dat cu capul. Din Alsószentmihály inscription (INSCRIPTIA DE LA SANNICOLAU-MARE) https://en.wikipedia.org/wiki/Als%C3%B3szentmih%C3%A1ly_inscription
The relic
The stone was an ancient Roman building stone—proved by the leaf-symbol, a frequently applied ornamental element of ancient Roman inscriptions—reused in the 10th century. Alsószentmihály located on the territory of the late Province Dacia existed up to the middle of the 3rd century. Dénes showed that the Khavars (Khazar rebels joined the Hungarians in the 9th century[1]) probably settled in this region (that time Transylvania).[2] In some parts of Hungary, there are data of the Khavars even from the 13th century Script used for the Alsószentmihály inscription
Some quotations from historian Gábor Vékony about the identification of the script in this inscription:
Vékony wrote in page 218: "Since the Alsószentmihály inscription was found not in the geographical area of the Old Hungarian script, and in the first line, only vowels could be read based on the Szekely alphabet, we can state surely that the possible transcription of the inscription is surely out of the Szekely script".
Vékony wrote in page 230: "To summarize, we can state that the Alsószentmihály Village inscription is the relic of the Khavars settled into Transylvania, which is naturally written in Khazar with Khazarian script."
Vékony wrote in page 280: Similar symbol occurs in other Khazarian runic inscriptions as well.
Vékony wrote in page 109:" "In Transylvania, the inscription of the reused stone built into the wall of the church of the Alsószentmihály Village is unambiguously written with Khazarian runic alphabet."
Based on the quotations above examples, it can be stated that Vékony identified the script of the Alsószentmihály relic as a Khazarian script. According to Vékony, another relic, namely the Homokmégy-Halom inscription contains Khazarian text as well.
The meaning of the inscription
The Alsószentmihály inscription was deciphered by archaeologist Gábor Vékony.
The transcription of Vékony (it uses IPA symbols):[9]
 
First Row
Second Row
Inscription
Transcription (using IPA)
ɛbi atlïɣ

j

yedi • kyr qereji
Translating from Common Turkic,[10][11]
His mansion is famous.
Jüedi Kür Karaite. or Jüedi Kür (the) Kerei.
According to Vékony, the inscription was made by a Khavar leader, whose religion was Karaite.[12] The first symbol of the first row is a ligature, its transcription: atlïɣ.[13] The first symbol (from left) in the second row is a Khazarian word separator.
In the inscription, the third symbol of the first row (from left), and the symbol in the second and last place can be considered as the descendants of the Turkic ideograms. Nevertheless, their relation needs more evidence.
Critics, alternative theories
There are several critics of Vékony's theories and translations, most notably the Hungarian linguist and historian, András Róna-Tas. The debates were summarized by István Riba in 1999 and 2000. =============================================== Noi avem la Tartaria: Poza din http://aplaceofbrightness.blogspot.com/2008/11/moonlight-in-romania-tartaria-tablets_21.html
Vekony zis-a ca primul semn este separator de cuvinte iar al doilea ar fi "J" =========================
Altfel avem dupa/din: Khazarian Rovas https://www.omniglot.com/writing/khazarianrovas.htm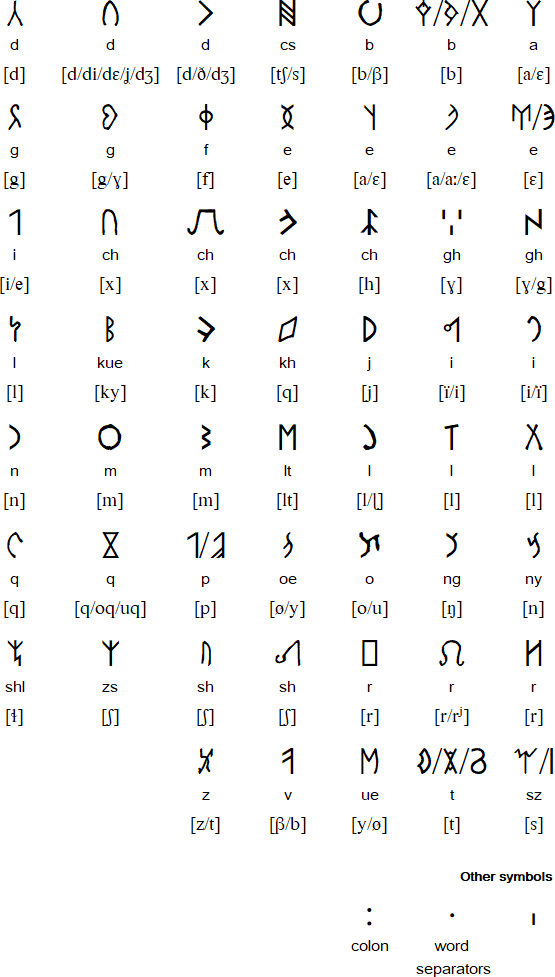 SEMNELE H D = CS J Ce inseamna ? numa' Istenu stie ! ======================================
Apoi semnele din partea dreapta, "D D o c"

ar putea fi:
J(L?) J M Q
Ce inseamna? Vre-un mesaj extraterestru. ~~~~~~~~~~~~~~~~~~~~~~~~~~~~~~~~~~~~~~~~~~
Din Listă de invazii https://ro.wikipedia.org/wiki/List%C4%83_de_invazii
….. Alte popoare migratoare
Khazarii, popor turcic de origine mongolă, era originar din Asia centrală și Siberia de sud. Ei au migrat în Europa alături de maghiari și alte popoare turcice. In secolul VII d.Hr își constituie un Hanat în nordul Mării Negre. In anul 890 o parte din ei migrează alături de Arpad și ceilalți maghiari în Panonia. Khazarii au fost singurul popor din istorie care s-a convertit la iudaism. Hanatul khazar era in sfera de influenta a Bizantului. În anul 969 el a fost distrus de cneazul rus Sviatoslav al Kievului. Ultimele sale rămășițe au fost înlăturate de o expeditie militară bizantină (1016). Khazarii se retrag în Caucazia și de acolo urmele lor se pierd în negura istoriei.
Pecenegii erau un popor din Turkestan și o ramură a turcilor. In secolul X d.Hr, sub presiunea triburilor selgiucide, turcii s-au islamizat. Turcii pecenegi au migrat însă in zona Volgăi, neacceptand Islamul. În 895, în același timp cu khazarii, unguri (cumanii apar ulterior) au migrat în Europa, stabilindu-se parțial în Muntenia și sudul Moldovei, unde cu timpul s-au integrat populației valahe autohtone. Acolo ei întemeiază mai tîrziu, temporar, un hanat alături de cumani, popor turcic. În 1091 pecenegii se infiltrează, la sud de Dunăre, în Balcani. Împăratul Constantinopolului, Alexios Comnen îi înfrânge și pecenegii vor dispare militar din istorie, după o ultimă confruntare cu Bizanțul în 1122.
Cumanii erau si ei popor turco-mongol ca pecenegii. Erau originari tot din Asia centrala si Turkestan. Hanii cumani au migrat in Europa cu pecenegii, ungurii si khazarii. Dupa caderea hanatului peceneg, cumanii le-au luat locul in Dacia. Atacau si jefuiau periodic cnezatele ruse si Ungaria. Cneazul Sviatoslav al Rusiei il infrange pe hanul cuman Kobiak. Apoi cumanii hanului Gza sufera o infrangere cand asediaza Novgorodul. Cneazul rus Igor este infrant de hanul Konkeak. In anul 1227 cumanii sunt infranti de mongoli si dispar din istorie. ============================== Vezi http://unicode.org/wg2/docs/n4080.pdf Universal Multiple-Octet Coded Character Set
International Organization for Standardization
Organisation Internationale de Normalisation
Международная организация по стандартизации
Doc Type: Working Group Document
Title: Issues of encoding the Rovas scripts
Source: Gábor Hosszú (Hungarian National Body)
Status: National Body Contribution
Action: For consideration by WG2
Date: 2011-05-25
This document compares the static and dynamic models of the development of the Rovas /rovaːʃ/ scripts.
Please send any response regarding to this document to Gábor Hosszú (email: hosszu@eet.bme.hu).
In this document, the IPA (International Phonetic Alphabet) symbols are applied for representing phonemes
extending with the symbols for the undetermined back /A/ and front /B/ vowels.
Contents
1. Latest proposals of the Hungarian National Body …………………………………………………………………………………1
2. Position of the Hungarian National Body…………………………………………………………………………………………….2
2.1. Purpose of encoding…………………………………………………………………………………………………………………………………….. 2
2.2. Name of encoded scripts………………………………………………………………………………………………………………………………. 2
2.3. Present-day Hungarian orthographies …………………………………………………………………………………………………………….. 2
2.4. The family of the Rovas scripts …………………………………………………………………………………………………………………….. 2
Figure 5: The Alsószentmihály inscription (920-952)
Written with Khazarian Rovas font First row: Í ¬B
Second row: C jZaq ZK ìIuj
IPA phonetic transcription First row: ɛ
bi a
tlï
ɣ
Second row: jyedi • kyr qara
j
Translation from Common Turkic (Khazar) First row: 'His mansion is famous.'
Second row: 'Jüedi Kür (the) Karaite.'
Table 3: Transcription of the Alsószentmihály inscription
The word /ɛb/ was used for larger buildings in the Khazar building inscriptions;38 therefore, its meaning is
'mansion'. The word /jye
di/ meant Jewish in Khazar language, in this case it could have used as a personal
name. The /kyr/ means 'courageous' and 'fearless' in Turkic, such personal names are typical in Turkic
languages. Therefore, the second row or at least the first two words (Jüedi Kür) formed the name of a Khavar
leader. The word Karaite also could have been a personal name. The Karaite Judaism is a branch of the Jewish
religion accepting the five books of Moses but not the Talmud, oppositely to the Rabbinic Judaism. The symbol
in the third row could have been a tamgha.39
In this relic, the KR q K /q/ is the ancestor of the SHR k K /k/, the KR Z R /r/ is the ancestor of the SHR
r R /r/. The KR u UE /y/ is ancestor of the SHR v V /y/v/ (see Subch. 4.7 in this document). The KR j J /j/ is
identical to the CBR j J /j/; the KR K KUE /ky/ is identical to the CBR ç KUE /ky/, the KR ì ANGLED I /i/ and
the a A /a/ are also common character with the CBR but not in the SHR.
The following Khazarian Rovas characters cannot be found in other Rovas scripts: B RAISED B /b/,
d ARCHED D /b/. The d ARCHED D is in a systematic KR ligature, the I DI /de/di/ed/. The symbol Í is the
ligature of T ANGLED T /t/ + l SIMPLE L /l/ + G GH /ɣ/.40
The punctuation symbol C KHAZARIAN ROVAS SEPARATOR LARGE is specific for the Khazarian Rovas
and it cannot be found in other Rovas scripts. The diacritic mark á SEPARATOR DOT ABOVE is also specific
for the Khazarian Rovas; however, it is descendant of the á COMBINING STOP ABOVE in the Inscriptional
Pahlavi script. It is used in the first row of this inscription.
Phoenician H HET /ħ/
> Early Aramaic H HETH /ħ/
> Imperial Aramaic À HETH /ħ/
> Parthian h HETH /ɣ/x/h/
> *Early Steppean *Q /ɣ/
> *Proto-Rovas *Q /ɣ/
> CBR (7th c.) Q, µ GH /ɣ/ > (21
st c.) Q GH /øː/
> SHR (*9th c., 12th c.) U GH /ɣ/
>SHR (15th c.) w, ¹ OPEN UE /ø/øː/y/yː/
> SHR (17th c.)¾ OPEN UEE /ø/øː/y/yː/ > (21st c.) /yː/
> SHR (20th c.) w OPEN UE /y/
> CBR (21
st c.) ¹ OE /ø/
> KR (8th c.) G, £, ù, ¥ GH /ɣ/, in Alan: /g/
> *Early Steppean *ó /y/ø/
> KR (8th-9th c.) ó UE /y/*ø/
> KR (9th-10th c.) u UE /y/ø/
> SHR (*9th c., 12th c.) v V /y/u/uː/
> SHR (14th-15th c.) u U /y/u/uː/
> SHR (16th c.) U UU /u/uː/ > (20th c.) /uː/
> SHR (17th c.) y UU /u/uː/
> SHR (15th c.) v V /v/
> SHR (20th c.) ® W /v/
> SHR (20th c.) ê W /v/
> SHR (21st c.) [ W /v/
> Old Turkic (Orkhon) M OE /ø/y/w/
> Inscriptional Pahlavi H HET /h/x/
> KR (8th c.) H ARCHED CH /x/
> Hebrew ח HET /ħ/x/
> Nabataean µ, h, H HETH /ħ/
> KR (8th c.) µ ANGLED CH /x/
××××××××××××××××××
Deci ne aflam in situatia mai mult decat rizibila sa fim nevoiti sa atribuim o data pentru tablitele de la Tartaria situata in intervalul 5.300 B.C.(Marco Merlini) si 900 A.D. (?Vekony) deci un interval total de cca. 6.200 ani ! Felicitari dragilor coledzi cercetatori !