Din https://ro.wikipedia.org/wiki/

Protoscriere                                                                   

     << Primele sisteme de scriere apărute la începutul epocii bronzului nu au reprezentat o invenție bruscă. Mai degrabă, ele s-au dezvoltat pe baza unor tradiții mai vechi ce constau din diferite sisteme de simboluri care nu pot fi clasificate ca scrieri proprii deși au multe caracteristici izbitor de asemănătoare cu scrierea. Aceste sisteme pot fi descrise ca fiind proto-scriere. Aceste sisteme

folosesc simboluri ideografice și/sau primele simboluri mnemonice

pentru a transmite informații încă au fost, probabil, lipsite de conținut lingvistic direct. Aceste sisteme au apărut în perioada neoliticului timpuriu, încă din mileniul al VII-lea î.Hr >>                                                                                                    ——————————————————————-                                                                                  In literatura de specialitate se vorbeste de "Danubian

script"

si "Indus

script

"  .Am inteles ca termenul are legatura cu scrisul, dar nu am fost sigur asupra intelesului sau.       – "Script, a distinctive writing system, based on a repertoire of specific elements or symbols, or that repertoire"                                                                                                                – "handwriting as distinct from print; written characters."                                                          – " Însemnare, consemnare, relatare scrisă; text."                                                                     Am vazut ca notiunea se aplica atat la insemnarile care constituie scris cat si la cele nedescifrate, despre care nu se stie exact in ce faza premergatoare a scrisului propriu-zis ar putea fi, ex. proto-scriere.                                                                                                         Lucrurile stand astfel, am tradus script prin "

scriptura

(manuscris, semne facute cu mana),=colectie de semne,

insemne/insemnari"
NISTE INSEMNE, SAU O COLECTIE DE SEMNE, CUM SANT CELE ALE CIVILIZATIILOR INDUS SI VINCA TEORETIC AR PUTEA APARTINE UNEI UNOR STAGII PREMERGATOARE SCRISULUI , LA FEL DE BINE CUM NU AR PUTEA.                       

PANA LA DEMONSTRATIA CLARA NU PUTEM AVEA VREO CERTITUDINE PENTRU NICIUNA DIN ALTERNATIVE.
================================================
DEVELOPMENTAL STAGES                                                   https://en.wikipedia.org/wiki/History_of_writing                                                                           A conventional "proto-writing to true writing" system follows a general series of developmental stages:
Picture writing

system: glyphs (simplified pictures) directly represent objects and concepts. In connection with this, the following substages may be distinguished:

Mnemonic

: glyphs primarily as a reminder.

Pictographic

: glyphs directly represent an object or a concept such as (A) chronological, (B) notices, (C) communications, (D) totems, titles, and names, (E) religious, (F) customs, (G) historical, and (H) biographical.
Ideographic: graphemes are abstract symbols that directly represent an idea or concept.

Transitional system: graphemes refer not only to the object or idea that it represents but to its name as well.
Phonetic system:

graphemes

refer

to sounds or spoken symbols,

and the form of the grapheme is not related to its meanings. This resolves itself into the following substages:

Verbal: grapheme (logogram) represents a whole word.                                                            ———————————-

Syllabic

: grapheme represents a syllable.

Alphabetic

: grapheme represents an elementary sound

Cele cu

maro

apartin

p

roto-scrierii

, cu exemplu proto-scrierea sumeriana, care folosea

semne pro

to-cuneiforme

care aveau numai unul din atributele de mai sus, iar altele au inceput sa aiba asociate si sunete/foneme.
Cu

albastru

, scriere propriu-zisa ; ex s

crierile Linear A si Linear B

.  ===========================
Savantul Harold Haarman, precaut si in maniera inteligenta, stiind foarte bine ca nu poate fi vorba de scriere, foloseste termenul de "

scriptura Vinca/Danubiana

" (Vinca script si nu Vinca writing).                                                                                   Dansul in mod corect afirma ca daca avem o scriptura, gen colectie de semne nu inseamna neaparat ca nu este scris, dand exemplul scrierii Linear B, care inainte de a fi descifrata avea aspectul unei scripturi/colectie de semne.                                      Mai departe, a observat in mod corect ca multe din semnele din cultura Vinca sant

semne elementare

(gen V, I <.+, L, etc.etc.),
iar altele au la baza semne elementare  lineare, (aspectul general fiind ca multiple combinatii de semne lineare),
Common symbols used throughout the Vinča period
iar altele au la baza semne elementare  lineare, (aspectul general fiind ca multiple combinatii de semne lineare).                                                                                              Other Vinča symbols
Nu sant sigur, dar retin si ma mir ca nu a folosit pentru acest tip de insemnari termenul consacrat  de "

proto linear".

Din

http://www.cclbsebes.ro

› 03_IKKenanidis_ECPapakitsos                                                            An Interpretation of the Malia Stone Inscription in Terms of the …

"Cretan Protolinear script, which is considered herein as the
original script that all the Aegean scripts evolved from. "                                                                                                                                                                                                         Mai departe, dansul presupune in mod corect ca semnele aveau o semnificatie, presupune dansul (!)  cu preponderenta religioasa (!?).                                                              In continuare presupune ca este posibil sa avem de-a face cu o "scriptura nucleara" , unde un semn poate reprezenta un concept sau cuvant, dar  nu tot cuvantul , ci numai radacina lui. Ex. VORBim

                                                                                                                                                      Din

An Introduction to the Study of the Danube Script


Harald Haarmann and Joan Marler https://pdfs.semanticscholar.org/c6f7/3ede61269c8d4663f60a954cfbd1b946837b.pdf
                                                                                                                                                          << When an inscription consists of only one sign, this sign must express a single idea or, the most elementary independent unit of language, a
whole word. This inductive identification is logical since any single sign with phonetic value (syllabic, segmental or alphabetic) would not express an independent linguistic unit and, thus, would not render a meaningful component of a message. In nuclear writing, only that part of a word (i.e., the stem) is rendered graphically which bears the elementary meaning. Nuclear writing is cumbersome because it requires a great interpretative effort on the part of the reader to specify the precise meaning of a text and to identify the exact contents of messages. For the reasons explained in the foregoing nuclear writing is by definition logographic.    …..

The best known script based on this principle of nuclear (logographic) writing is the system of Sumerian pictography,

the predecessor of cuneiform writing. Nuclear writing is the principle which governs the sign compositions in the oldest clay tablets from the cultural strata of Uruk III and IV, dating to between 3200 and 3000 BCE     …..The social functions of the Danube script, as far as they can be reconstructed from the archaeological record, point to a predominantly
religious context.

Religious functions dominate

the early phase of literacy in the Danube civilization. In the course of time, the use of

signs extended to also encompass the sphere of everyday life

>>
Din

                                                                                                                                                   Dec

i

Dl. Haarman

presupune ca ar putea fi vorba de proto-scriere, ca si cea sumeriana

gresit numita pictografica, de fapt proto-cuneiforma,

dar nici dansul si nimeni altcineva din lume nu a putut face dovada

ca face parte dintr-o asemenea

faza premergatoare

scrisului. 

   

Si nici dovada clara a functiei semnelor in domeniul religios si al vietii zilnice.

Aici, Dl. Haarman in loc sa explice cum si de ce nu este proto-scriere alege sa sustina ca poate fi o folosire a semnelor intr-un script chiar fara descifrare, dar gaseste motive si explicatii de conjunctura, de ce nu poate fi descifrata:
                                                                                                                                                         << 7. How to Make Progress with the Decipherment of the Danube Script?
As outlined earlier (see under 2), a positive identification of sign use in the Danube
civilization as a script is possible even without a successful decipherment. This analysis of the sign inventory and its composition, the artifacts and their inscriptions and the resemblances with other ancient writing systems has, hopefully, provided insights into the early experiment with writing in Southeastern Europe.                                                                                                                                            At the moment, it is doubtful whether significant progress with the decipherment can be made since bilingual and digraphic texts do not exist. In the absence of a "Rosetta Stone"—the item that made possible the breakthrough in the decipherment of Egyptian hieroglyphs in the 1820s (Champollion 1825)—the prospects to ever crack the code of the Danube script seem minimal.There are certain conditions of the cultural embedding of the Danube script and its literacy
which, seemingly, pose unsurmountable problems to a successful decipherment:
o The scarcity of longer texts which would allow for a computational approach to identify frequencies and group patterns of signs in inscriptions;                                    o The appearance of multifunctional signs which may represent a script sign but are also integral components of religious symbolism (e.g., the cross sign, the V
sign, the lozenge and the meander). Although it is highly improbable that we might
ever be able to read entire inscriptions in the Danube script we may well know more about its social functions and about formulaic patterns of its sign use. Progress may also be expected from an analysis of signs and their groupings
according to their appearance on certain objects, such as cult vessels, spindle-whorls, sculptures and ceramics, thus facilitating the distinction
between writing and other notational systems (e.g., numeration, calendrical information, weights and measures, and heraldic emblems as markers of social groups). All these systems interacted in a sophisticated network of communicatiotion in the ancient Danube civilization. >>
=============  E X P L I C A T I E  ================
Sumerienii, dupa ce initial au folosit "margele" (conuri, discuri, etc.) din lut care semnificau produse :
le-au inlocuit cu semne care le reflectau forma.   Apoi la scurt timp au mai adaugat pictograme si ideograme care prin forma semnificau realist semnificatul.
 Apoi la scurt timp au mai adaugat pictograme si ideograme care prin forma semnificau realist semnificatul.
A, "apa" SAG, "cap" Sze/Se "cereale,orz"                      Apoi semnele au inceput sa semnifice si idei,cuvinte
AMAR ,"vitel"
si sa devina mai complexe.Pe parcurs unor semne li s-a uitat semnificatia initiala.
"

23″

                                                                                                           (Fig. 2) Impressed tablet featuring an account of grain, from Godin Tepe, Iran
DACA

SUMERIENII

AU PORNIT DE LA NECESITATEA NUMARARII SI DISTRIBUIRII PRODUSELOR SI SEMNELE

AU INCEPUT PRIN A FI PICTOGRAFICE

, ACESTE PRIME SEMNE AU CONSTITUIT STRUCTURA PE CARE S-AU DEZVOLTAT APOI CELELALTE.

IN FINA

L S-A AJUNS LA CUNEIFORME, CARE AU UN CARACTER "DIGITALIZAT" (FIIND FORMATE DIN LINIUTE).                                                                                                                                                                                                                             IN "SCRIPTUL VINCA", S-A PORNIT DIRECT DE LA SEMNE ELEMENTARE LINIARE SI

NU AU EXISTAT NUCLEE SEMANTICE PRACTICE PRECUM PICTOGRAMELE

IN JURUL CARORA SA SE STRUCTUREZE

, CA MAI APOI SA DEVINA COMPLEXE.                        SEMNELE ELEMENTARE AVAND PROBABIL O SEMNIFICATIE, NU AU PUTUT ULTERIOR, PE PARCURS

SA REORGANIZEZE /REARANJEZE SEMNELE COMPLEXE

PENTRU A OBTINE UN GEN DE IDEOGRAME (ASEMANATOARE CELOR CHINEZESTI).                                                                                                                              P.S. La cele chinezesti ideogramele nu au legatura cu sunetele sau limba.
==============================
Inteleg ca aceste incercari legate de scris au incetat la un moment dat:
   <<  The Danube script was successful as well although its continuity into later periods is still a matter of dispute. The ancient tradition of literacy on the continent

ends about 3200 BCE

(Owens 1999: 117). There are traces of a decaying writing system and of a notational system in the early third millennium BCE on the
Greek mainland (Haarmann 2002b: 17 ff.).

Literacy shifts to the Aegean.

The earliest evidence for Linear A in Minoan Crete dates to around 2500 BCE.   >>
Domnul H.Haarman, sustine ca scriptul Danubian a fost sursa de inspiratie pentru scrierile Egeene. Eu nu subscriu. Sant de parere ca scrierile sumeriana proto-cuneiforma si Feniciana au fost sursa scrierilor Egeene.                                                                                                                                                                                                                         Ex. ce inseamna proto-Linear:                                                                                                       Cretan Protolinear Script: The Sixth-Vowel Set of Syllabograms Ioannis K. Kenanidis https://j.ideasspread.org/index.php/ilr/article/view/46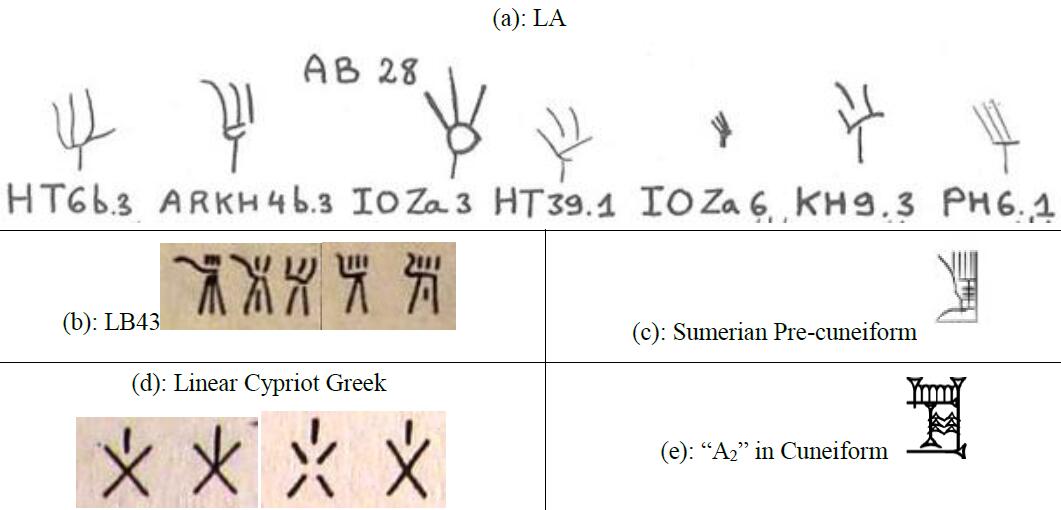 !

A T E N T I E

! 

TABLITELE DE LA TARTARIA NU FAC PARTE DIN CULTURA VINCA,

CULTURA CARE A INCETAT (5700–

4500 BC

) CU MULT INAINTE DE A FI INSCRIPTIONATE.
Nicaieri pe tot globul nu exista nici cea mai mica urma de proto-scriere inainte de 3.500 B.C. ! Daca cineva ar ssustine (inca) o vechime de sa zicem 5.300 B.C. ar fi o gogomanie putin mai mica decat ceea de a sustine ca oamenii au fost contemporani cu dinozaurii (in schimb scara proportiei temporale este asemanatoare) ******************************************
DOMNULE HAARMAN !
Initial v-am suspectat ca dumneavoastra vreti sa va sustrageti (evaziune, eludare) folosind termenul de script. Pentru a nu face apropierim trimiteri si comparatii directe cu scrierea sau proto-scrierea. Spuneti ca scriptura/insemnele Danubiene ar fi un "scriptura nucleara", ca scrierea pictografica sumeriana. Probabil trebuie sa va reamintesc ca

sumerienii nu au folosit niciodata chiar nici la inceputuri numai pictograme.

De la inceput au folosit semnele

proto-cuneiforme din care unele erau pictograme iar altele logograme si ideograme

. Cu aceste semne au realizat proto-scriere, cu care reuseau sa transmita mesaje, adevarat la modul general.                                                                                                                                                                  Exemplu de proto-scriere sumeriana (cum o denumiti Dv. "pictografica")                          Chiar aici aveti exemplul numarului 1 care nu este pictograma ci IDEOGRAMA, deci chiar de la inceput nu a fost scriere pur pictografica):
                                                                                                                                                      Din

Writing systems; signed and spoken language. Language and thought.

http://exclusivohumanos.com/Ling%20001/Ling%20001%20Lecture%2011%20Writing%20language%20and%20sign%20language_%20Language%20and%20thought.htm
Such early documents are 

difficult to interpret

, largely because they lack indication of verbs and the interrelations of nouns — precisely what full language excels at. The meaning might be                                                                                                           

"two sheep received from the temple of Inanna", or

"two sheep delivered to the temple of Inanna", or perhaps something else entirely.
Deci 2 ,templu!nu casa, oaie, zeitate, Inanna
Putem doar deduce aproximativ, fara a avea ceritudine:
" ?date?primite?

2 oi

  ?pentru sacrificiu?

templul

ze-

it

ei

Inanna

"

                                                                                                                                                       Aratati-mi un singur exemplu privind o succesiune de semne din "scriptura Danubiana",

oricat de scurta

din care sa se poata extrage un mesaj ori un inteles.

Aratati-mi un singur exemplu in sprijinul ipotezei Dv. ca semnele erau folosite cu preponderenta in domeniul religios (chiar daca nu explicitati mesajul/intelesul)
Din

ontogenyphylogenyepigenetcs.wordpress.com › 2010/07/13 › rebutta…                         Rebuttal of Sproat, Farmer, et al.'s supposed "refutation" by …


"The Vinca markings on pottery are linear but scholars have established that the symbols do not appear to follow any order – the system thus can be expected to fall in the maximum entropy range (MaxEnt) in the above figure."
Deci

gradul de dezorganizare=

entropie se apropie de

maxim pentru scriptura Vinca

(grupul acela de linii in culori pastel reprezinta limbi si scrieri cunoscute si au grad de dezorganizare=entropie mai mica)
                                                                                                                                                   Din  https://en.wikipedia.org/wiki/Vin%C4%8Da_symbols                                                                                      Analysis
The Dispilio Tablet of the late 6th millennium may also be an example of proto-writing.
The Indus script, which from 2600 BCE to 1900 BCE was used for extremely short inscriptions.>>
Even after the Neolithic, several cultures went through an intermediate stage of proto-writing before they used proper writing. The "Slavic runes" from the 7th and 8th centuries AD, mentioned by a few medieval authors, may have been such a system. The quipu of the Incas (15th century AD), sometimes called "talking knots," may have been of a similar nature. Another example is the pictographs invented by Uyaquk before the development of the Yugtun syllabary for the Central Alaskan Yup'ik language in about 1900. >>