Careful/ Attention !                                                                                                                                                This post is not a decipherment or reading of any actual written content of Tartaria tablets. Given that the signs do not belong to a single writing system but to several, the page has a purely didactic character. It has the role of trying and testing different writings, in the idea that the tablets would have used one of them. The signs on the tablets belong to several writing systems over a long period of time and which have been used in different geographical areas. In none of the trials did the signs fall into a single type of writing, there always remained signs that came from other writings (or as coming from the unknown). Most of the signs come from the Sumerian proto-cuneiform -shaped ones. The signs in the upper half of the round tablet seem to come from archaic Greek writing. This "collection" of signs seems to be the fruit of one's rich imagination. As A. Falkenstein and A. A. Vaiman found, (this is also my firm opinion) the author was not a scribe, he had only vague notions about writing in general, and it is not known what he intended  or he was after. There are many elements of inconsistency as well as others that take the tablets out of the usual patterns and norms of honest logic, writing and intentions. =====
Tartaria tablets, latest advanced research. Answers to allmost possible questions.
Picture,from https://www.descopera.ro/stiinta/3343280-misterele-tablitelor-de-la-tartaria
Map from https://cersipamantromanesc.wordpress.com/2014/07/30/adevarata-istorie-a-descendentei-noastre/
 Tartaria village, Alba County
Only three important, crucial issues have been  in the attention of researchers, during decades since discovery of the tablets in '61, until today.
N.Vlassa , chief in charge at the archaeological diggings. supposed discoverer .               His picture from https://actualdecluj.ro/semnificatia-tablitelor-de-la-tartaria-muzeul-de-istorie-din-cluj-detine-cele-mai-vechi-scrieri-din-istoria-civilizatiei/
 Tartaria groapa Luncii from arheologie.ulbsibiu.ro
But also the same questions still surrounded by mistery, and interesting the audience at the highest level:                                                                                                                            1.real age  2. Genuine?  3. Whether or not carry a form of writing.                                       The answers to these questions will be, each of them detailed and almost dissected, and  have been the result of more than 10 years of dedicated research. Into the field of birth and followed by the evolution of writing in the world, various world writing systems, and then the comparative study customized and applied to Tartaria tablets (Tartaria tablets=TT)
1. Are TT as old as spoken/rumors ?
Various researchers have advanced different ages.There is no convergence of opinions. Their discoverer, N.Vlassa told of about 2.700 B.C. Then others went up to 5.300 B.C. (e.g. M.Merlini).                                                                                                                                             The age of 5.300 BC after me is completely out of  question, and the 2.400-2.700 BC is the maximum extreme theoretical! limit from which I can discuss after my humble opinion. I Will explain the reasons why even this latter age is not possible.
2.What are the arguments of most researchers for these TT ages (after me unrealistic)?
For 5,300 BC :                                                                                                                                          – the alleged finding of the tablets in the layer corresponding to the civilization of Vinca and the age same as of the bones (5,300 BC/C14) assumed to be found in the immediate vicinity. Image, from https://www.thelivingmoon.com/46ats_members/Lisa2012/03files/Tartaria_Tablets.html
 Tartaria Groapa Luncii, female bones dated 5.300 B.C.
At present, very few researchers are still claiming such an old age.                                     For 2400-2700 BC :                                                                                                                               – possible fallen down from above strata, so origin from newer layers (and hence the membership of artefacts to crops such as Cotofeni? Baden? Petresti?) and                          – related assessments of some artifacts found in the immediate proximity of TT, as pertaining to later cultures than Vinca A-C, as well as                                                                   – judgments and comparisons generally related to the time of appearance, and the evolution of writing in the world.
From https://alba24.ro/autenticitatea-tablitelor-cu-semne-pictografice-de-la-tartaria-enigma-pentru-unii-istorici-ce-spune-arheologul-horia-ciugudean-care-in-1989-a-participat-la-sapaturi-400800.html  :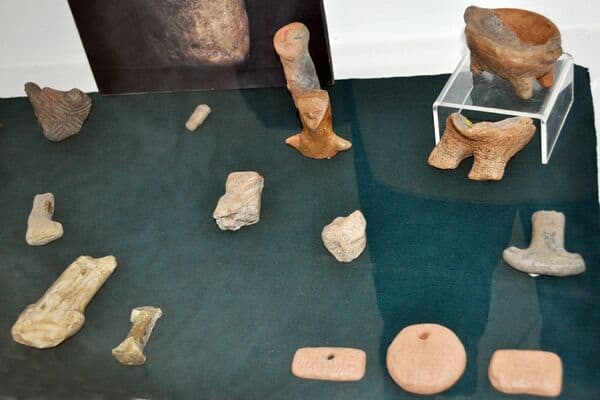 Artefacts found alegedly with the tablets,
Image, from  https://fashiondocbox.com/90885882-Jewelry/Tartaria-and-the-sacred-tablets.html
 Tartaria-Groapa Luncii (the very site where tablets were found)
3.Were TT in that layer (VINCA) ? Were the tablets near the bones?
It is not known for sure;
"there are no photos or sketches, blueprints of the exact location of each artifact, and much more,
– Not known who were present/ all the persons close to the moment of discovery,        – where exactly were every of them, or walked in the ritual complex, when and how much time some missed (eg. Vlassa some hours)                                                           – Who was the very person who first saw or found TT                                                      – In fact who first touched them is not known.                                                                   – When, who gathered, packed the artefacts and transported to museum , when and to whom were given, where in the museum were put ?
In conclusion, there are no witnesses and no hard evidence of where exactly where every artefact/item including TT were placed or were found in the entire religious complex.                                                                                                                                               AS A RESULT, I HAVE ANY ASSISTANCE AND CANNOT RELY ON ANY EVIDENCE REGARDING THE PLACE AND MOMENT OF DISCOVERY, AND THE SAME ON ESTIMATED AGE, REMAINING FOR ME THE SINGLE OPTION, THAT OF ANALISING THE SIGNS !
4.  There is available a scientific method of measuring their age exactly?
Their Age cannot be determined with any of the current methods. Worse not anymore, as the tablets have been baked in an owen (who has decided at an unknown temperature is not known) apparent, immediately after discovery, because they seemed to be friable.                                                                                                                                       (Not to be enough, before  chemical structure was changed , as were impregnated with nitrolack !)
5.Could be TT genuine  sumerian or how much could be related to the early stage of the sumerian handwriting?
There are not a sumerian, it is absolutely certain.                                                                          Top researchers in the proto-writing field said that although the signs are similar to the sumerian proto-cuneiform (proto-writing stage), the signs and writing are not authentic/genuine sumerian.                                                                                                              These researchers only mentioned these similarities and differencies in the passage and in a superficial way.                                                                                                                              I went into more detail and explained that the signs are similar in shape reflected only as blueprints, schematic way/sketch the proto-sumerian signs, but they have no their counterpart concrete shape.                                                                                                       Researchers shows shortcomings, they have                                                                                 – not identified all the signs, and they have                                                                                      – misidentified others. (Ex A. Vaiman, R.Kolev and others).                                                                                                                                                                                                                              The resemblance is due to the filogenesis of the writing in general. That is, the connection and the ultimate sumerian origin and transmission of the signs and in fact of many writing systems used in the Near East and in the Aegean area. Such a filiation, apart from the one noted by researchers I.Papakitsos and G. Kenanidis (relative to the Aegean proto-linear writing) is supported and explained by me and in addition and sometimes more detailed. However, I did not think of some assyrologists and specialists in sumerian proto-writing/proto-cuneiform (e.g. Falkenstein, A. Vaiman, R.Kolev) to approach a sumerian interpretation as long as they claim that signs are not proper/really sumerian?
From The Origins of Writing as a Problem of Historical Epistemology                 Peter Damerow https://cdli.ucla.edu/pubs/cdlj/2006/cdlj2006_001.html
<<…. early writing systems seems to indicate, as Ignaz Gelb has pointed out in his famous Study of Writing (Gelb 1952: 212-220), that the idea spread in various directions at the beginning of the 3rd millennium BC from centers in Mesopotamia and Egypt. Proto-Elamite writing occurs only a short time after proto-cuneiform. It was used for a short period in vast areas of the Iranian plateau. In the second half of the 3rd millennium BC, writing is attested as far to the north as Ebla in Syria and to the east as the Indus culture in modern Pakistan. Minoan writing starts at Crete around the turn of the 3rd to the 2nd millennium BC. At that time, cuneiform writing is also attested further north in the regions of Anatolia.>>
                                                                                                                                                                   6. What examples could be given  to support the fact that TT are not genuine sumerian ones ?
Always the sumerian signs/marks for numbers (with the apparent  D-letter shape) in the Sumer were made by imprinting, but

ours are made by tracing/scratching

.
Sumerian numbers : from https://sites.utexas.edu/dsb/tokens/the-evolution-of-writing/
(Fig. 2) Impressed tablet featuring an account of grain, from Godin Tepe, Iran (Courtesy Dr. T. Cuyler Young, Royal Ontario Museum, Toronto)
Proto-cuneiform tablet (W 9578,g) from Uruk IV, 3350-3200 BC …
Only

D-shaped

proto-cuneiform sumerian

NINDA/"bread"

sign was traced/scraped. (on the right).                                                                                          Image from https://ro.pinterest.com/pin/488640628318570008/?lp=true
                                                                                                                                                    (We have on TT

first D-sign on round TT

very close to it, but not the same.            Image from http://aplaceofbrightness.blogspot.com/2008/11/moonlight-in-romania-tartaria-tablets_21.html                         
)
Very many signs though reflecting by general way the shape of the sumerian proto-cuneiform ones, in fact their concrete and exact shape is much more like those that were later used in the Anatolian, Aegean (and even many in the Mediterranean) writings. As well as in the Near East (canaanite, phoenician).                 
IT IS A FACT THAT WAS NOT NOTICED NOt A WORD, BY ANY SCIENTIST, (ONLY BY ME) THAT:                                                                                                                                      – MANY SIGNS ON THE ROUND TABLET IS REFLECTING

AN EVOLUTION

, (CHANGED SHAPES THAN PROTO-CUNEIFORM), REFLECTING A

LATER PERIOD OF TIME

!                                                                                                                                       One example:         picture from  http://aplaceofbrightness.blogspot.com/2008/11/moonlight-in-romania-tartaria-tablets_21.html                                                                                                                        The H-like sign (on the round tablet with 3 horizontal bars) looks much more like, and even is exactly the same as the folowing:                                                                          – the Heth sign from canaanite writing/1.500-1.200 BC,                                                    – the Pa3 sign from the Aegean/2.000-1.500 BC,                                                                     – the archaic ETA/Heta sign from the archaic Greek/ 800-500BC (apparent crooked-looking due of offset vertical bars). But the sign is actually further present throughout  Mediterranean. Only one sign is identical to that of proto-cuneiform, the sign +++++++, the sumerian 'As' and another is approaching (the 1-st D), the sumeria sign "Sur".
The Sumerians, during any period, used a uniform writing corresponding to the time during which the scribe was living. They did not use pictograms and ideographic signs on separate tablets at/in a given time.
7. The shape of clay TT is very important?
I don't think it is. Image from https://www2.uned.es/geo-1-historia-antigua-universal/ESCRITURAS_ANTIGUA/Escrituras_3__antiguas_BALKAN_DANUBE-SCRIPT.htm
 Clay disc from Vinca, Serbia
Otherwise I know more examples  round tablets.                                                                  Sumerian star map, from                                                                                 https://curiosmos.com/this-5500-year-old-sumerian-star-map-recorded-the-impact-of-a-massive-asteroid/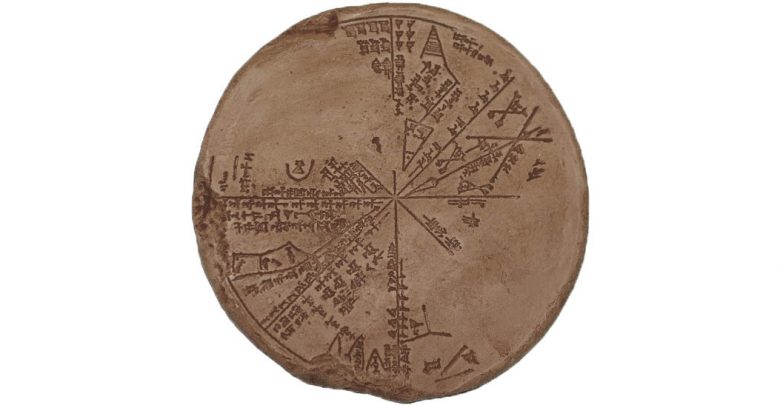 and none sumerian ones with a hole. Then the Cretan tablets with the hole, but not perfectly round-shaped.
 Linear Script A/ http://arthistoryresources.net/greek-art-archaeology-2016/minoan-outline.html , and round ball:
 Cypro-Minoan clay ball in Louvre, https://en.wikipedia.org/wiki/Cypro-Minoan_syllabary
Folowing Karanovo tablet http://institutet-science.com/sakralna-plochica-karanovo/?lang=en
Another round tablet & holes, from Tartaria : https://adevarul.ro/locale/alba-iulia/tablita-secreta-tartaria-contine-obiectul-arheologic-descoperit-2014-semnele-erau-ascunse-privitorilor-1_57fcfa425ab6550cb876646f/index.html
Then the discussion about how flat or swelling/bulged are some or others do not see to be much productive.
 8. Are the TT genuine ?
YES. (More so yes than no! )                                                                                                                ( partly No, because it does not seem to be the result of a one's intention to communicate by writing something connected with a particular economic or religious necessity.)
Yes, because the one who wrote them didn't intended to fool somebody and whatever intented (we do not know what), the scribe was fair intended. It seems he wanted rather to practice the evolution of  writing or to show someone the same evolution and basic principles of writing.                                                                                                                     Maybe at the best succeded to write a short ritualic formula or short written economical token.
9. If the "writer" intended to show the evolution and writing principles, could be like/kind ofsumerian-like school scribal tablets ?
Definitely no. Because school scribal tablets:                                                                                  – put youngsters to copy teacher's texts,                                                                                         – to divide tablets in writing sectors, and                                                                                    – were quite repetitive in content, as containing lexical lists, eg. of things, ocupations, etc.                                                                                                                                                                                                                                                                                         From The tablet House: a scribal school in old Babylonian Nippur Eleanor Robson https://www.cairn.info/revue-d-assyriologie-2001-1-page-39.htm#
Types of school scribe, writing-learning tablets:
Table 3 The order of the elementary curriculum in House F
[20]
10. What is the point, or why there are 3 tablets together?
The question can be asked because if you have something to say, you write everything on a tablet and  not spreading the message in three different places. Or at least write using the same writing system.                                                                                                 The answer is that he wanted to show the evolution of the writing from icons to ideograms, and even to some extent to syllables and letters.                                          We have                                                                                                                                                   – a rectangular (without hole) tablet with icons.                                                                            – another rectangular tablet (with hole) with ideograms.(These ideograms/logograms may have in the extreme the function of syllabograms)                                                         – a Round tablet (with hole) to all appearances shows the Aegean syllabograms, or even letters (Anatolian/archaic Greek).                                                                                              (except for 2 complex rituallic? marks/ideograms present in the right-hand lower quarter).
11. Are there any cases in the world of using by the same scribe of two or three writing systems?
Only exceptionally, two, e.g. the Roseta stone written with Egyptian hierogliphs and Greek letters, but there is no known case in which 3 writing systems appear (as in our case) and not with systems whose temporal spread  covers 2000-3000 years!      (Sumerian proto-cuneiform 3.300BC, Cretan  Hierogliphic 2,000 BC, linear A/B 1500 BC, Greek archaic writing 800-300BC) >> time span 3.000 years !
12. Is it claimed that the (by somewhat majority) the assumption  that the signs were used at religious ceremonies?
Although researchers make reference some for economic use and others for religious, none of them fully supports or demonstrate any of the alternatives. In other words, leave open the way for any interpretation (including a mixed one !?)
The scales is serious inclining for yes.                                                                                      (only slightly Not, since                                                                                                                        – the tablets contain only 2 complex ideograms (in the round of the right-bottom quarter) that could play a role in religious ceremonies,  otherwise all signs were used in different areas by different civilizations for true writing !                                                                           – many researchers noticed possible number marks, so economical purpose)                                Mainly Yes, since the round plate contains in the right-hand-bottom quarter 2 complex ideograms and in addition the rectangular one with the hole contains many ideograms/logograms, all of which are applicable to religious rites.                               And again, yes, as  it is possible that ONLY the upper half of the round tablet  contain a written/verbal/ritualic formula for use in such ceremonies. This may be, or sure it is the explanation, that this portion was usually hidden from the direct view of the passers-by, being covered by the rectangular one.
13. What about  scribe's training on writing?
Most researchers claim that he was almost illiterated. I support the same idea. It seems that in general the tablets were covered with many signs from different writing systems and the only section where the scribe has managed to write is the upper half of the round tablet. Probably he was aware of this fact from the very beginning!                       (!…iliterated, but how happened he had the ability and the science to display signs used in large spatial and temporal expansion !)                                                                                          Having access to a large sign library, and an ordered, organized character of the signs on 3 different tablets,                                                                                                                                – Now, I am seeing the scribe different as in the past time, not as a person close to illiterate but maybe a priest(ess) ?, or rather kind of Berossus of his time !
14.How much new in extreme, could be the tablets ?
Theoretically and practically it could reach the very period of  archaic Greek writing 800-300 BC or that of the etheocretan wich goes/rich to our era/AC. 
From Wikimedia Commons,File:CretanEpichoricAlphabets.png
But it is excluded to be newer from the early Middle Ages due to certain aging traces. The possibility of a inscription of recent date does not exceed that of being written, by a catholic teacher-priest !!!, (… who had access to old writings and documents.)                          The tablets are shown as a collection of signs, apparently scattered from different areas and periods of time, but nevertheless ordered and somehow divided into three major  evolution of writing categories.                                                                                                  Who could have done this? It is all easier when we are approaching modern times ? where the possibility of access to signs used in the past is increasing.
15. The signs on the tablets belong to or are placed in a specific, particular writing in the world?
No! In fact my entire work mainly includes the testing of the various writing systems. Unfortunately no tablet is matching entirely with one writing. But no chance for all 3 tablets simultaneously ! The greatest closeness, that is, the largest number of signs can be found in the Sumerian proto-cuneiform and almost equal to the letters of the Anatolian writings.(the signs are found in the various Anatolian writings, the top being the carian writing/alphabets).
From Alphabets of Asia Minor https://tied.verbix.com/project/script/asiam.html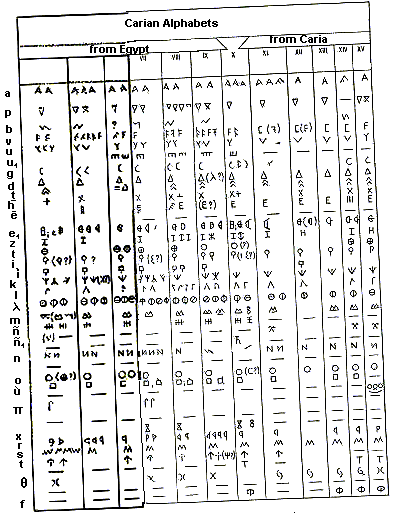 Then follows a series of Mediteranean writings, in the top  being Aegean  writings.               For these reasons, the writing and of course the tablets seem to have a subsequent age newer  of 2.400 BC. (See also Cretan hierogglyphic 2200-2000 BC ,linear A, 1800-1500 BC). None of the tablets can be read using a specific writing for each/no match. Much impossible to read/read using a single  writing system for all three !
16. Strictly on sign appreciation What age could be given to the  the signs ?
Although many signs and to a large extent only "look-like" the sumerian ones reflecting only by far their shape, in the general signs show to be much more recent (new). Unfortunately, a few (really few)  have not been used in the concrete form present on tablets absolutely no in the world before 1,200-1,500 BC !(e.g. sign D ; …oops present in Indus/Harappa writing)
From https://sites.google.com/site/collesseum/qeiyafa-ostracon-2
                                                              Khirbet Qeiyafa ostracon (1.000 B.C. ?)
17. The tablets belong to  Danube, Old Europe, or a Daco-Thracian civilisations ?
No, the Danube civilization/The Old Europe has come close, but it hasn't even reached the stage of the proto-writing. cause was not a highly socially stratified society in this area, and there were no mach attraction or dedication to writing. In fact, the  tablets are singletones,  absolute unique. The tablets of Gradeshnita, Karanovo, Dispilio belong to other cultures and other phases of writing evolution (proto-writing).                     Regarding Cris-starcevo and Vinca Civilisations:
From Ancient DNA from South-East Europe Reveals Different Events during Early and Middle Neolithic Influencing the European Genetic Heritage https://journals.plos.org/plosone/article?id=10.1371/journal.pone.0128810
"Firstly, archaeological data show that the Neolithic expansion from Anatolia was not a single event but was represented by several waves of migrants [24]. In this respect the Proto-Sesklo culture in Greece, from which directly Starčevo-Criş in the North Balkans and indirectly LBK in Central Europe originate [25–26] represents only the first great wave of Neolithisation of Europe [27]. A later great wave of migration from North-West Anatolia led to important cultures of South-Eastern Europe such as Vinča and Boian cultures [28].                                                                                                                               …………..The first Neolithic inhabitants of Europe are described archeologically as belonging to the Aegean Early Neolithic cultures [27], from which the bearers of both the Starčevo-Criş-Körös complex in Serbia, Romania and Hungary [28, 37] and the Linear Pottery culture in Central Europe (LBK) [21] emerged.                                                          …………These data are in line with the idea of a common origin of the LBK and Starčevo-Criş cultures from the Aegean Neolithic cultures of Northern Greece/Thessaly, the first Neolithic complex in Europe [24].                                                                                     ……………..Fernandez E, Perez-Perez A, Gamba C, Prats E, Cuesta P, Anfruns J, et al. (2014) Ancient DNA Analysis of 8000 B.C Near Eastern Farmers supports an Early Neolithic Pioneer Maritime colonization of Mainland Europe through Cyprus and the Aegean Islans. "
18. Was the scribe a native of Tartaria ?
Definitely not ! The local community did not know the writing. The tablets were inscribed by an individual of different origin. From Anatolia and possibly from the Egeana area (Crete ?), or if you want of proto-Greek origin. Note that Anatolia is close, bordering  the Aegean, Syrian and Danube areas; (there are also indications of the presence of Anatolian craftsmen in the area of Vinca). TT could, however, be effectively inscribed by that person in his home-place or in extreme even in Tartaria.
19. What made for living the scribe; what could be his occupation/profession  ?
Others opinion is the same as mine, could be an prospector, craftsmen but much sure tradesman.
20.From the perspective of the evolution and existence of all writing systems in the world, which is the location occupied by TT signs ?
Here I have to say that because of the great similarity of the signs with the sumerian proto-cuneiform shapes, as well as the written signs used in the Aegean and Anatolia, to a large extent, it was possible and relatively easy interpretation of TT using each or any of these above writings This shows on the one hand the origin of the writing, but also the spread of the writing in space and time. The scribe and signs were coming  from somewhere in the space delimited by these civilizations.
From Writing in Neolithic Europe; an Aegean origin?  https://novoscriptorium.com/2019/09/28/writing-in-neolithic-europe-an-aegean-origin/
"For many years the earliest writing was assumed to have originated in Uruk, in Sumeria, Mesopotamia c. 3100 BC. Evidence from Egypt has now dated writing to c. 3400-3200 BC, while evidence 
from the Indus Valley suggests a date of 
3500 BC
 for the development of writing there. 
In the 1980s, a system of writing was noticed in the Balkans of the Final Neolithic period. This was identified as "pre-writing" by Shan Winn (1981) and Emilia Masson (1984) who considered whether this constituted a Vinča "script." They each concluded that the Vinča signs represented a "precursor" to writing.
…   The Neolithic expansion, as is generally accepted in our time, started from the Aegean towards the North and not the opposite (of course, there also exists the controversial issue of some supposed initial migrations from Anatolia-Near East which, as we have presented with the help of officially published material, do not seem to be the case. It is more likely that domesticated seeds and animals were adopted by the Aegeans, through Trade, from the East rather than that the Aegeans were…substituted by some 'ghost' Eastern population that does not at all culturally-archaeologically appear in the Aegean or Southeastern Europe during the Neolithic). Therefore we must derive that Writing expanded from the Aegean to the North and not the opposite as some researchers have suggested in the past."
21. The tablets could carry real script /true writing ?
 General opinion of scientists and scholars specialised in proto-writing is pointing for NO. Cause they realised that the signs are similar to those used in proto-writing, namely the proto-cuneiform signs. The use of proto-cuneiform signs is conducting only and unique to proto-writing ! And because almost all the signs are similar to those proto-sumerian it is about sumerian proto-writing.
Scientists also noticed that part of the signs are not identical in shape with those sumerian-ones, but probably thought that are a kind of variant, local adaptation, without explaining or detailing where or how this could happened. Thus begining with a basically "sumerian interpretation" their's are in general close one to another and also close to mine.  Some told of economical tablets, seeing on the upper-right part of the round tablet only cereals and numbers.                                                                                                  But if taking as true that this section had ezoteric content and was intentionally hidden, it is cristal-clear that nobody was hiding numbers ! So numbers or ezoteric content, only one out of twoo !                                                                                                       But others, were pointing to an religious content, and not few saw ideograms wich not only could be used in religious rituals but in fact were practically used as such on a larger scale. In reality, the signs could be used for both purposes. In and describing an offering ritual ( cereals/bread and animals/goats). What I noticed myself that those ideograms are somehow similar to those used in ancient Aegean writings, (Cretan hierogliphic and Linear A), with the  result close interpretation. (even if  the signs are much close to those sumerian ones. )                                                                                    Exemple of closeness/similarities of Aegean signs to those sumerian ones:                                                              
Semn sumerian    Semn Egeean          Semnificatie                                                                             As,Se                          Te                          Cereale                                                                                  Gu,Gud                      Mu                           taur                                                                               Amar                        (a)Ma                     vitel/zeita-Mama                                                                 An                              ?                          zeu,cer                                                                                       Bad                            Da(Sa?)                        sacrificat,mort/                                                                 Ab /Zag/Ga'ar             Labrys               templu,stralucire/divin                                                      Ud                              capra,ied                         capra,ied                                                           Dara                                -"                                    -"-                                                               Ararma                      Asasara                          zeitate astrala?                                                         Gar                                   D                              masura volum cereale
From  https://enigmatica.ro/placutele-de-la-tartaria/
From https://cdli.ucla.edu/pubs/cdlj/2015/cdlj2015_001.html                                                           BAD: …it bears the meaning "sacrificed," or in the case of humans, simply "dead."
From https://brill.com/view/book/9789004352223/BP000008.xml (see no.7, UD/goat)
Folowing signs, from  https://cdli.ucla.edu/tools/SignLists/protocuneiform/archsigns.html
Ab
Amar
An
Ararma
As
Sze/Se
Ud5
Zag~a
Zag~c
Dara~3d
Ga'ar~b1
Sur  
Gar
All interpretations, of scientists and mine are sending to, are in close touch with an -religious ritual !  !
22. But if you ask me of an possible true writing ?
I say, I hope yes, on the round table, the top half, although we have there a kind of "impossible" combination of signs ("Doo/DDoc" sequence) and apparently no way out. However, in that half of the round tablet, we could have the archaic Greek letters:
 pic from http://www.ziare.com/cultura/documentar/tablitele-de-la-tartaria-cea-mai-veche-scriere-a-lumii-descoperita-in-romania-1090967
To the left: Eta/Heta Rho/D?                                                                                                            And to the right:    Doo, DDoc?/ Dtwo?/RRoo, Roc?
What could be written, what possible texts?
It seems that we will never be able to have absolute certainty anymore, of any message or text. By one side                                                                                                              – we don't know the language used, and by the other side                                                           – because there can be more possibilities of letters and not know for sure whether the P/D signs actually are for D or R letters ; and also,                                                                      – a concrete number of letters (even they are few !) may lead to a relatively large number of combinations of n as many as m)
Can one make suppositions at least?
Yes, there would be a set of proposals to be considered, for example:
Here Roc Roc Albanian here Rrok= time grab, understand
HeRos DiBoc=DiVos Greek Lord/master Zeu (use in religious ritual?)
EDE DiDou Greek "now give!"/"give to eat!" (This proposal is of some interest, since the root of the ED is present in both food-related words (e.g. EDTA) and in that of kid Ed.educs. We have one or more kids on the pictGraphics? So through the icon of the iedului can suggest the word Ed,Ede !: Mananca!/kid, iedule)
HeDe Didou Greek now,already give! (do you give it?; religious ritual?)
! Caution, *hed is the root Proto Indo-Europeana for 'mananca'!
HRist(s) DDoc Latin "of the doctrine of christiana"
Hero, ERO DDoc (Decreto Doctor) Latin will be a doctor (Lat."Professor") in the theological doctrine)
etc
23. Again. Why 3 tablets, each with different "writing", and how to explain this (only the appearance !) are there signs?
In fact, it is not a pile of signs. It Is the fruit of a conscious and deliberate effort. Remember, as for me, who have come to keep in mind hundreds of signs from each writing system, it would not necessarily be easy for me. If I intend to show to a student or any reader the main steps in the appearance and evolution of  writing, maybe I would do much the same.
On a tablet I would show pure icons/pictographs, as the ones on the pictographic tablet. I would choose about the same kind of basic signs, which almost identical meaning in the Sumerian proto-cuneiform as with those of cretan hyierogliphic  and Linear A.               Cereal and goat icons. There is also an absolute unclear sign , possible ghost, man, gods !?                                                                                                                                                            On the second (like rectangular tablet with hole), I would figure sumerian ideograms that are almost entirely and close shape found in the Aegean syllabograms .                                                           Signs: Cereals, Gods, labriys, Gods, Taurus).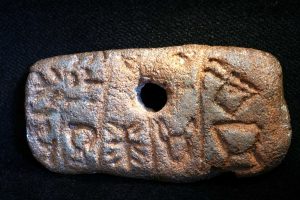 picture from https://www.descopera.org/tablitele-de-la-tartaria/
On the third (round tablet) I would figure the pure phonetic writing (but not necessarily alphabetic!).Those signs have corespondence in sounds . As summerian ideograms , Aegeene syllabograms, and even  to Greek and Anatolian letter wich has every of them coresponding phonemes/sounds.
Examples:
On the pictographic tablet:                                                                                                                  the grain/cereal Sumerian icon, similar to the Cretan sign for cereals. And then the common icon for the goat.
On rectangular tablet with hole, 3 examples:                                                                                  1. The sumerian sign "Se" <> the linear A sign  "Te", cereal, grain.                                                2. Then the sign 'Animal head with long ears':                                                                                 the "AMAR" sumerian /calf and Cretan Hierogliphic /linear A "Mu"/Bull , linear B "Ma"/sign of Mother Goddess.                                                                                                                         3. And the sign of the Orion constellation, the "Zag"/ the shine of metal, linear "Labrys" sign of the linear A divine power.
-On the round plate, only 2 examples:                                                                                                 1. The H-sign with 3 bars is the sumerian "Ku", linear A "Pa3″,canaanit "Heth" and archaic Greek  "Heta/Eta", old Latin "H".
2. Sign (as with # but only with 1 vertical bar):sumerian "Pa" and linear A "Pa" (later "Z" in many writings)
I don't know why, also on the round plate, the right-bottom quarter, two complex ideograms appear, Picture from http://aplaceofbrightness.blogspot.com/2008/11/moonlight-in-romania-tartaria-tablets_21.html
e.g. one (on the right) is like the temple of solar gods Shamash/ 
Proto-cuneiform sign UD.UNUG:"sun -inner temple"
the sign of the punic Goddess Tanit, astral Goddess as Ishtar=the sign of the minoan astral Goddess Asasara.
From https://www.ancient-origins.net/ancient-places-africa/baal-hammon-and-tanit-0012136                                                                                                                       
 Punic Goddess Tanit
WHEN THE TOPIC IS THE DEVELOPEMENT OF WRITING, WIKIPEDIA COMES ALSO (as TT scribe have done and I also would do) WITH 3 MAIN STAGES:                                                                                                                       Din https://en.wikipedia.org/wiki/History_of_writing
A conventional "proto-writing to true writing" system follows a general series of developmental stages:
Picture writing system: glyphs (simplified pictures) directly represent objects and concepts. In connection with this, the following substages may be distinguished:

Mnemonic: glyphs primarily as a reminder;
Pictographic: glyphs directly represent an object or a concept
Ideographic: graphemes are abstract symbols that directly represent an idea or concept.

Transitional system: graphemes refer not only to the object or idea that it represents but to its name as well.
Phonetic system: graphemes refer to sounds or spoken symbols, and the form of the grapheme is not related to its meanings.                                                                         ———————————————————-
24. What was aiming at, or real purpose of the tablets ?
If, after a sustained and tenacious effort, I managed, succeed to have in my little finger or mind, (… where you want), thousands of signs grouped into different writing systems; (not discuss my ability or expertise compared with others, though I want such a challenge). If I could make a collection of signs in this way, that is grouped on the main types of writing folowing the course of time, with all the possibilities of 20th century documentaries at my disposal, probably the result will be close to those tablets.
Who, for God's sake, from where and how long, does not discuss with what purpose, made a collection of ordered signs and divided into three major groups of historical evolution ? Note, signs with an extension of their use on a 2.500- years  time-span ( ~2.500-500 ECB)?
REMEMBER, SHOWING WRITING EVOLUTION NOT IMPLY THAT THE AUDIENCE PERSON WILL/TAUGHT TO WRITE
25.I put under scrutiny an important question and subject to follow; I am looking forward to your opinions with great interest.
Remember, the tablets are real an material and  not coming from somewhere from the virtual reality, and therefore do not hold as copies of others, so there are original, they were made by someone, though, and in this way original and not counterfeit, fakes. 
 Although they have taken note of the similarities between the signs on the TT and those in the sumerian, they have limited themselves to referring quickly and perhaps somewhat superficial only to a few aspects.                                                                             
What completely escaped my understanding is that none of them noticed and did not refer to the fact that the somewhat grouped signs, as if somebody divided them into three categories of historical evolution ??.
For example, a researcher with dozens of publications and books, who has literally exhausted attacking the topic TT from the perspective of all interdisciplinary branches (archeology, history, culture, seminary, etc.) starting from the Neolithic, (if not near the mesolithic) these essential aspects escaped him. Namely the similarities with the Levantine, Aegean, Anatolian and Mediterranean civilizations writings, and maybe worse, not noticed this kind of display of seemingly arranged signs in historical, in temporal evolution, and I am referring here to Mr Marco Merlini                                                                                                                            
                                                                  Mr. Marco Merlini, from http://www.prehistory.it                                                                                                                                                                                                                                                                                             (and mentioning his master, Prof. Gheorghe Lazarovici)
26. Possible explanation  ?
This spark-idea is mine, but not a recent-one, and could explain TT purpose and who wrote and/or used them . As to be brought at an unknown time and unknown religion by kind of missionary. The round tablet could have written on upper half,                                                                                                                                                                                               Pics from http://aplaceofbrightness.blogspot.com/2008/11/moonlight-in-romania-tartaria-tablets_21.html
an ritualic formula, as out of the signs HP Di b o c , some could be:
greek : HEROS DIVOS = LORD GOD
latin:   HeRus  DeiVOS =    -"-      -"-
Note.                                                                                                                                                         "If" word God  is written, then like kind of Tetragrammaton m not to be pronounced, hidden like the name of YHWEH.(also have here 4 letters !)                                                   Was natural to be hidden from the view of passers-by, especially at the begining of christianism when followers were chased, ??
or a religious christian-like one ( "Our Father" pray: give us our daily bread"
greek: HeDe/EDE !  DiDOS/DIDOU ! :Allready,this here,now/GIVE EAT !
latin:  ED/EDE   DeDou(i)=/DeDUI    : Kid-goat/EAT     GIVE!
From ETRUSCANS, VENETI and SLOVENIANS: A Genetic … http://www.korenine.si › zborniki › zbornik05 › belchevsky_rea                                                                                                           The barbarians were the ancient Europeans, non-Greeks, whose speech was not understood by the Greeks. ….. divos > dibos > qibos > qeios > qeos.
From https://www.etymonline.com › word
deva | Origin and meaning of deva by Online Etymology Dictionary
… cognate with Greek dios "divine" and Zeus, and Latin deus "god" (Old Latin deivos), from PIE root *dyeu- "to shine," in derivatives "sky,
From https://linearbknossosmycenae.com/tag/ionic-greek/  by Richard Vallance Janke
(in pictographic tablet we have an kid-goat and something totally unclear, as a human silhuette with hands forward as giving)
…. or you will wonder what other possible formula.                                                                   The presence of the other signs on TT, which apparently do not contain writing, explain it to me by the intention of creating a framework, appearance, but also the feeling and atmosphere of continuity and the transmission of knowledge and religious concepts of a eternal nature, originating in the very distant past.                                                                 The fact that all the signs on TT were used in a place, time or another for writing, raises my suspicions to me. As if that person had access to sources such as the library from Alexandria or the Vatican?.In fact, I shouldn't be so much, as the priests really had access to such sources and were among the main propagators of culture in general.
IN THE WORK OF FINDING A PLACE, REAL &TRUE IDENTITY FOR TT, WE ALL FOUND SO MANY UNCOMMON, EVEN WEIRD & PUZZLING CHARACTERISTICS THAT THE TOPIC TEND TO MOOVE STEP BY STEP, FROM WRITING & SCIENCE FIELD TO OBJECTS FOUND ON EARTH FALLEN FROM OUTER SPACE.