sign Gal
From Ninazu (god) http://oracc.museum.upenn.edu/amgg/listofdeities/ninazu/index.html?fbclid=IwAR0jKu5gUOqQcz7aPaKdXrXZinwqd5nHcE6dLM9_jlZD00uWHu8LKp2lPq4
From Sumerian Lexicon https://www.sumerian.org › sumerian
PDFby JA Halloran · Cited by 115 — Sumerian Lexicon, Version 3.0. 31 adj., big, large; mighty; great (chamber + abundant, numerous) [GAL archaic frequency: 1004  An example of such chart for sign AB 08 (phonetic value /a/) is displayed in fig. 2 
From SigLA The Signs of Linear A: a palæographical database Ester Salgarella Simon Castellan https://sigla.phis.me/paper.html  "An example of such chart for sign AB 08 (phonetic value /a/) is displayed in fig. 2 "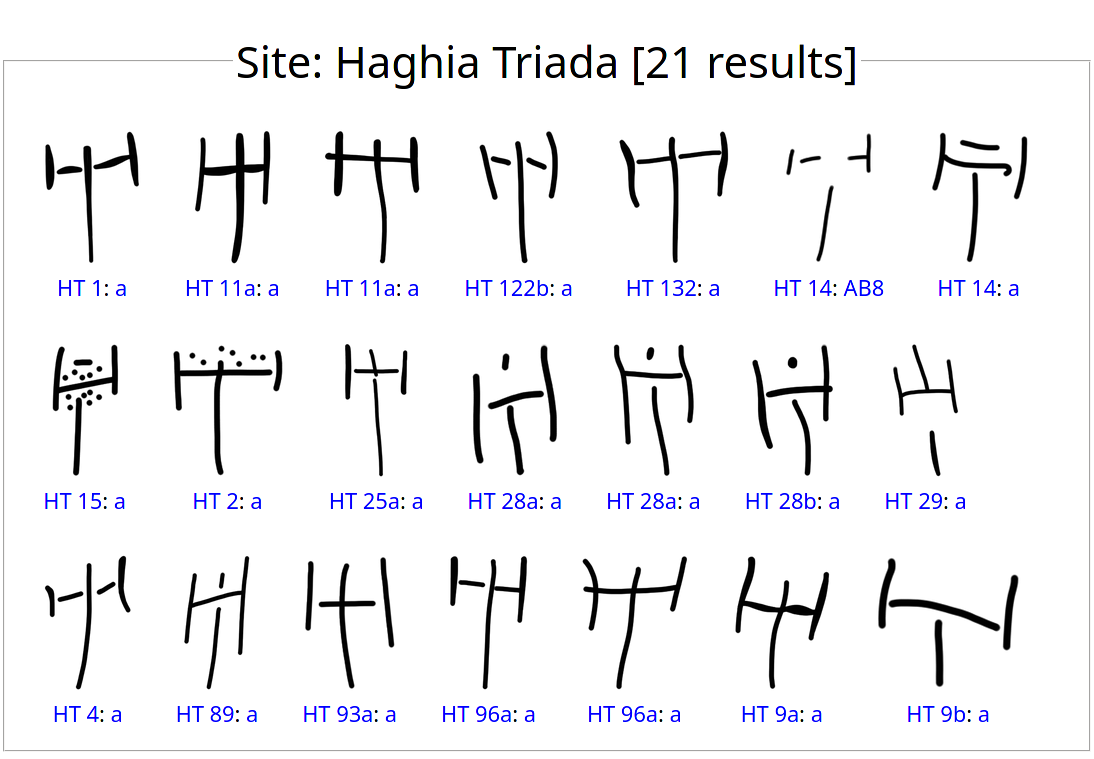 THIS IS THE POSEID TRIDENT. IF TRIDENT, DOUBLE-HEADED AXE WAS A SIGN OF POWER AS AGYPTIAN MACE. THAT'S WHY THE DOUBLE AXE SIGN WAS FOUND IN CAVE WHERE RITUALS WERE PERFORMED BECAUSE WAS THE SIGN OF ALLMIGHTY !
But the oldest trident symbol is at Gobekli Tepe :
Gobekli Tepe's Pillars – Prehistory Decodedhttps://martinsweatman.blogspot.com › 2020/10 › gobe…Oct 6, 2020 — Significance: Gobekli Tepe (GT) probably represents the origin of … this stone plaquette tells the story of the comet god (trident symbol) ..
Who built Göbekli Tepe?18. MAY 2016 / OLIVER DIETRICH https://www.dainst.blog/the-tepe-telegrams/2016/05/18/who-built-gobekli-tepe/
Most striking in this regard is a small plaquette from Göbekli Tepe. From the left to the right, it shows a snake moving upwards, a stylized human figure (?) with raised arms, and a bird. What makes this small find so interesting, is that the combination of depictions reappears not only in similar (e.g. in Jerf el Ahmar with a fox in place of the human-shape?), but also in completely and nearly identical form twice on another site, Tell Abr´3 in northern Syria (Köksal-Schmidt & Schmidt 2007; Yartah 2013, with images  [external link]). Vie quotidienne, vie communautaire et symbolique a Tell 'Abr 3 – Syrie du nord par YARTAH ThaÉr – 2013 – Université Lumière Lyon 2 http://theses.univ-lyon2.fr/documents/lyon2/2013/yartah_t/info
eugenrau: …. a bird !? ===================== See also Trident: Powerful Religious Symbol Found In Many Ancient Cultures Angela Sutherland https://www.ancientpages.com/2019/12/04/trident-powerful-religious-symbol-found-in-many-ancient-cultures/?fbclid=IwAR0IYTuFjG2D97oS6NzW8jIXFdcCjyMd6y0u1XF9Tgfu6d8g1aM7CdFe86I
Trishula – Wikipediahttps://en.wikipedia.org › wiki › TrishulaTrishula (Sanskrit: त्रिशूल, IAST: triśūla) or trishul is a trident, a divine symbol,
See also, A BRIEF OUTLINE ON THE TRIDENT (AND BATTLE-AXE) demetrios vakras http://www.daimonas.com/pages/trident-briefly.html