In domeniul culturilor si civilizatiilor este cunoscut fenomenul transmisiei.Exemplu, transmisia neoliticului sau agriculturii din Orientul Apropiat in Europa.Aceasta se poate produce pe cale demica si/sau culturala.Aici avem de-a face cu ambele. ————————- In postarile precedente am avansat o ipoteza privind semnificatia simbolului sacru T folosit in constructia pilonilor. In rezumat, m-am bazat in principal pe: – acceptia ulterioara a semnului sumerian T:"Me".Acesta avea o semnificatie complexa,
The List of MEs in the Myth of Inanna and Enki – Angelfirehttps://www.angelfire.com › tintirbabylon › ME << ME este un cuvânt sumerian (probabil pronunțat "mai") care nu are un singur echivalent în engleză exact >>
– Eu m-am sprijinit pe etimologia dedusa de cercetatorul rus V.V. Emelyanov si anume "vointa de a trai" – faptul ca etapa de dezvoltare a religiei in care se afla populatia de la Gobekli Tepe era aceea de paganism. Paganismul inseamna in mare venerarea naturii. Adaug eu, si a vietii. – Avand in vedere cele de mai sus, semnificatia propusa de mine pentru simbolul T este "SPIRITUL VIETII".
Sper ca nu mai este necesar sa revin cu precizarea ca pilonul T era templul, in care isi avea salasul spiritul vietii, asemanator cum ulterior templele si bisericile sunt lacasul Domnului. —————– Semnul T se regaseste sub o forma mai mult sau mai putin apropiata in diferite arii, avand semnificatii legate de viata:
SUMERIA https://cdli.ucla.edu/tools/SignLists/protocuneiform/archsigns.html
Platonic forms vs. Sumerian ME? https://www.reddit.com/r/pagan/comments/c0pumf/platonic_forms_vs_sumerian_me/?utm_source=amp&utm_medium=&utm_content=post_body << The cuneiform sign
— called ME and representing the values: išib, ma, and me — is the root of the verb "to be" in the Sumerian language. Logographic words and compounds, written alone or in conjunction with the ME-sign, deal with the concept of "being," i.e. a thing's innate essence.>>
Me (mythology) – Wikipediahttps://en.wikipedia.org › wiki › Me_(mythology)In Sumerian mythology, a me is one of the decrees of the divine that is foundational to those social institutions, religious practices, technologies
The Mes…Ancient Sumerian Blueprints to … – Okar Researchhttp://balkhandshambhala.blogspot.com › 2013/09 › th…Sep 8, 2013 — "The Mes were documents or tablets which were blueprints to civilization
The Sumerian me as a Concrete Object – De Gruyterhttps://www.degruyter.com › aofo.1997.24.2.211 › pdf by J KLEIN · 1997 · Cited by 13 — the verb me "to be",2 with the basic meaning: "essence," i.e. "a thing's divine- ly ordained essence," or "what a thing should be
https://www.sumerian.org/prot-sum.htm << me, mì;

e: n., function, office, responsibility; ideal norm; the phenomenal area of a deity's power; divine decree, oracle; cult. v., to be; the Sumerian copula; to say, tell.

poss. suffix, our. me3,6,7,9: battle. me6: to act, behave. >>
The Nostratic Macrofamily (with special reference to Indo …https://www.tandfonline.com › doi › pdfby AR Bomhard · 1992 · Cited by 66 — From the  very earliest days of Indo–European (IE) comparative … Proto-Uralic *me 1st person sg. personal pronoun stem: 'I, me':
Este extrem de greu de explicata transmisia din generatievin generatie timp de 6.000 de ani a unor simboluri (de la 9.600 la 3.600 I.E.N.) Insa s-ar putea cumva explica dacacsitulnnu este chiar asa vechi, cum mi-actrecut mie prin cap si cum de exemplu se sustine aici
https://www.researchgate.net › 3174…(PDF) Dating Gobekli Tepe – Research Gate – Dating Gobekli Tepe: the evidence doesn't support a PPNB date, but instead a possibly much later one. Dimitrios S. Dendrinos Ph.D.,
EGIPT Semnul Ankh are diferite semnificatii toate in urul vietii, exemplu "VIATA VESNICA". Am gasit ca bucla ar reprezenta vesnicia iar crucea tau viata.De fapt bucla poate avea o semnificatie de ordin secundar in plus putand fi un maner al semnului T. https://store.signsofspirit.com/ankh-egyptian-eternal-life-ancient-septre-of-the-pharaoh-tau/?fbclid=IwAR09urjMxPmABFsZZmcUPwTUpYRUPhcYkS_n9YWPQFBmkJhjzYAxE3cQEec << Hieroglifă egipteană a Vieții Eterne, cunoscută și sub numele de Septra Antică a Faraonului, cheia vieții, cheia Nilului sau crux ansata. Acest simbol combină "tau" sau crucea în formă de T, care înseamnă "viață" și energia masculină, cu bucla sau cercul care reprezintă "eternitatea" și energia feminină. >>
ARIA EGEEANA Semnul Linear B "Za" https://images.app.goo.gl/tfWdQ77mLzASMsBR7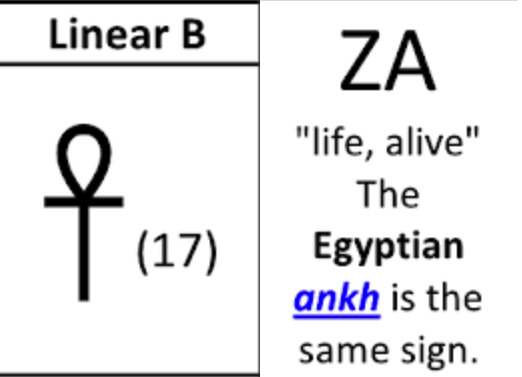 https://www.ancient-symbols.com/symbols-directory/tau.html << The ancient Greek considered Tau to be symbolic of life and resurrection, while 'theta', the 8th letter of the alphabet was used to denote death. In ancient Egypt, the Tau symbol was thought to represent a phallus and was also regarded as the marker for holy waters. Ancient mythology associates the symbol with the Greek deity Attis and the Roman god Mithra or Mithras.>>
MENORCA, SPANIA
wikipedia: Arheologul Michael Hoskin a sugerat ca taulele ar fi putut fi parte a unui vechi cult de vindecare. In acest sens putem asocia desigur vindecarea cu viata.
CIRCASSIA / ADYGHE Adyghe / Circassian Habze https://aratta.wordpress.com/2013/10/16/adyghe-circassian-habze/?fbclid=IwAR3W4VOJxDgVOvAfPLQ1b0KHzbrKXuLBFp9JgPq3cBg2pf53_TXnXTbZSao << Habze, sau Habza, scris și "Khabze" sau "Khabza", numit și Habzism, definește religia etnică păgână, filosofia și viziunea asupra lumii a adyghilor sau a circasienilor.
În primul rând, Tha se exprimă pe sine generând Cuvântul sau Legea cosmică (Khy), tiparul primordial din care se formează în mod natural toate ființele, dezvoltându-se prin legi interne. Iluminarea pentru oameni corespunde unei înțelegeri a Legii lui Tha. Tha este omniprezent în creația sa (coagulare); conform textelor cosmologice adyghe, "spiritul său este împrăștiat în spațiu" >> ======= I P O T E Z A =======
USI, PORTI cu forma T
Am intalnit in Egipt si la Civilizatiile precolumbiene deschizaturi ori intrari in temple in forma de T. https://www.alamy.com/stock-photo/t-shaped-doorways.html
Pueblo Bonito: https://www.abrock.com/InterimReports/Chaco1/Chaco1.html
https://gamblershouse.wordpress.com/2011/09/06/the-gila-cliff-dwellings/amp/
Ancient America: Hovenweep http://nativeamericannetroots.net/diary/967
Va intrebati daca deschiderile pot avea ceva in comun inafara de forma T. In postarile mele anterioare am explicitat ipoteza mea, conform careia la 9.500-8.000 B.C. in faza paganista, pilonii T asemanatori unor trunchiuri umane, semnificau spiritul vietii.Spiritele in general nu aveau si nu au o forma concreta, acesta forma in T fiind o stilizare, esenta. Ei, se pare ca forma T a spiritelor stramosilor a difuzat si in alte culturi.Pentru a trece in cealalta lume spiritele aveau nevoie de o deschizatura,trecere, si logic ar fi ca poarta sa aiba aceeasi forma.Cam aceasta ar fi ipoteza mea.Desigur oricine se poate intreba, si as fi preferat si eu pentru o completa sustinere: – De ce nu apar si in alte parti (acolo unde avem deschizaturi T) spiritelle vietii (sau ce or fi) cu forma T? si – De ce nu avem in Anatolia deschideri in T ?