In scrierea Egeeana (hieroglifica cretana) , avem semnul: (Imaginea din The First 'European' Writing: Redefining the Archanes Script: Redefining the Archanes Script https://www.researchgate.net/figure/Initial-Archanes-Script-seals-High-contrast-incision-only-drawings-by-author-after_fig3_328919412 )
….si pe valea Indusului, Din https://ro.pinterest.com/pin/227994799856052126/?lp=true   …din pacate "Indus script" cum se mai numeste, este departe de a fi descifrata, ca atare nu stim ce semnifica cu adevarat acel semn care seamana perfect cu securea dubla minoana….
Sau din Minoan Linear A, Linear B, Knossos & Mycenae https://linearbknossosmycenae.com/2017/01/27/minoan-linear-a–labrys-inscribed-with-the-word-idamate-what-does-it-mean/
Pe de alta parte, avem in tablita dreptunghiulara ("cu gaura") de la Tartaria, un semn cumva asemanator (Nr.4 si Nr.7):
Din https://vincaturdas.wordpress.com/decriptarea-inscriptiei-turdas/
Semnul Egeean pentru Labrys seamana cu semnele de pe tablita noastra.                             Sa aiba ambele (Creta si Tartaria) la origine semne din Sumer ??                                                ————————————————————————————-
Semnul sumerian proto-cuneiform AB:"templu,casa"   Din http://literatureandhistory.com/index.php/episode-001-the-tower-of-babel
                                                                               Din The Tower of Babel Cuneiform in the Fertile Crescent, 3100-500 BCE https://cdli.ucla.edu/tools/signlists/protocuneiform/archsigns.html
Din https://cdli.ucla.edu/tools/signlists/protocuneiform/archsigns.html sign AB~a :"casa,templu"
Alte semne care seamana cu cel Egeean si cu ale noastre:                                                           – semnul ZAG:"metal" "stralucire(metalului)"
Din Sumerian Dictionary – bulgari-istoria https://www.bulgari-istoria-2010.com/Rechnici/Sumerian_Dictionary.pdf Metals = ZAG (the shine of metals).
Din https://cdli.ucla.edu/tools/signlists/protocuneiform/archsigns.html
                                                                                                                      Acest semn a fost folosit de sumerieni pentru lingouri metalice ! Aceasta forma specifica a fost folosita pentru lingouri in absolut toata lumea si in engleza forma este denumita OXHIDE :"piele de bou" pentru ca o pielea de vita intinsa are aceasta forma.
Lingou cipriot din bronz,                                                                                                                Din https://www.metmuseum.org/art/collection/search/248493   Period:Late Bronze AgeDate:ca. 1450–1050 B.C.Culture:Cypriot Medium:Copper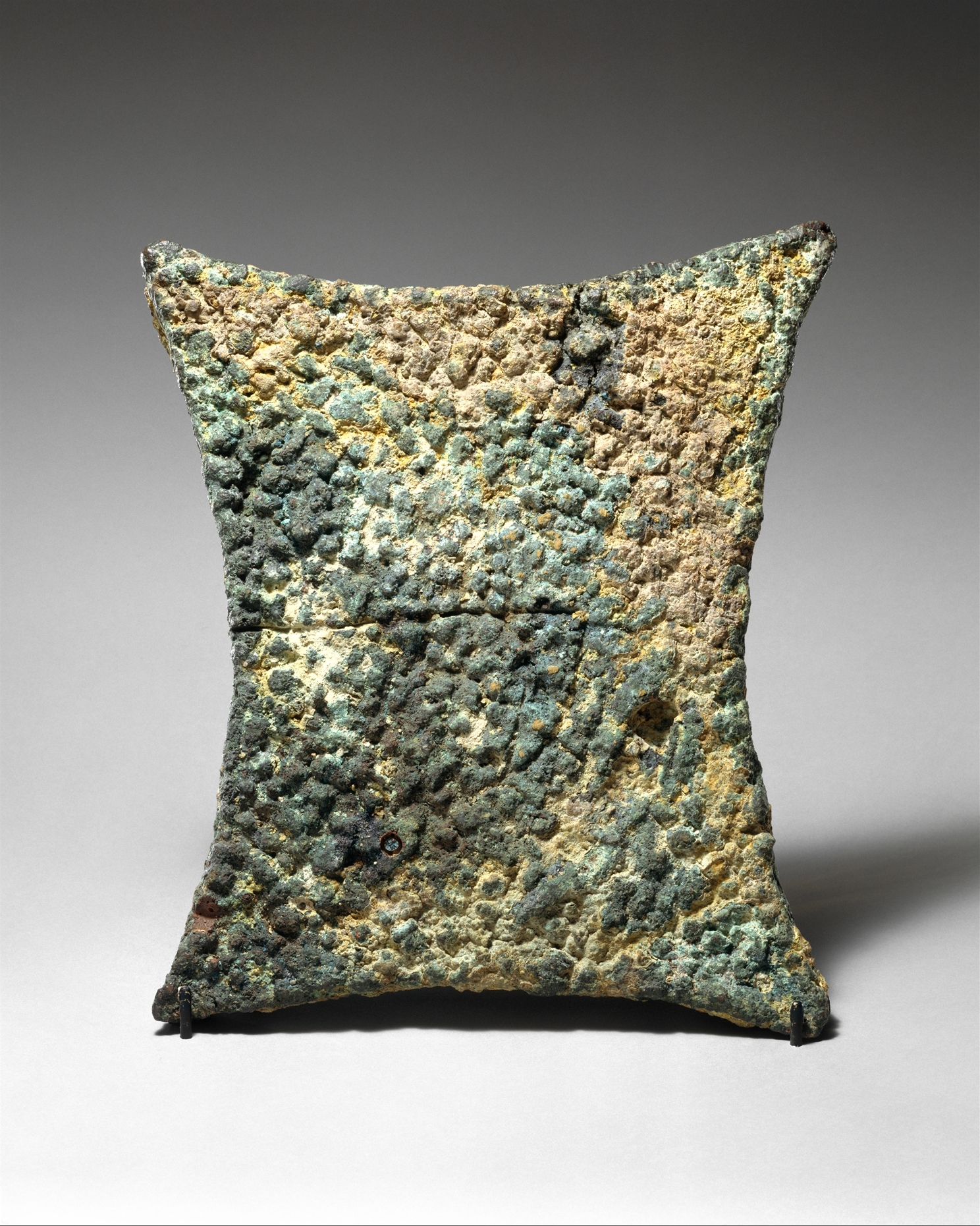 Din https://cdli.ucla.edu/tools/signlists/protocuneiform/archsigns.html Semnul GA'AR
===========================================
Daca semnul Egeean a provenit din unul sau din ambele semne sumeriene, cum se face ca la Egeeni inseamna Labrys?                                                                                                        Dupa ipoteza cercetatorilor G.PAPAKITSOS si I.KENANIDIS, primii minoani au fost de fapt colonisti sumerieni, care cunosteau semnificatia semnelor lor proto-cuneiforme, iar acestea au fost adaptate in Creta, forma si semnificatia suferind in timp transformari.                                                                                                                        Nota                                                                                                                                                    Autorii mai sus mentionati au aratat intr-o lucrare asemanarea semnului labrys cu un semn sumerian. Insa desi ei sustin ca originea semnelor minoane au fost primele semne sumeriene proto-cuneiforme, cand sa exemplifice acest lucru, au luat o varianta mai tarzie pentru labrys (semnul "A"), si in consecinta au ales neinspirat si gresit semnul corespunzator sumerian. Astfel, pentru mine exemplul ales de dansii este cel putin  neconvingator.                                                                                                                          ———————————————————————————————–                                       Faptul surprinzator este acela ca ar fi posibil ca semnul Egeean "Labrys" sa aiba la origine ambele semne sumeriene si intr-un fel a pastrat semnificatia originala a ambelor:
– Semnificatie original sumeriana de casa, Templu pentru ca in toate pesterile si locurile sacre, acest simbol este prezent.Se pare ca pentru minoani mai mult decat ca reprezinta securea cu doua taisuri era simbol regal si divin.Labyrintul era de fapt casa securii cu doua taisuri LABRY-nthos=LABYRINTHOS.Si era de fapt locul sacru al Minotaurului divin, de fapt tremplul subpamantean salasul soarelui in parcursul sau nocturn.
– Apoi a pastrat si semnificatia de "stralucirea metalului" simbolul reproducant destul de fidel   securile stralucitoare cu doua taisuri din bronz, argint si aur prezente in locurile sacre. (particulaa "stralucitor" era prezenta in numele multor regi sumerieni si hititi, sub forma unor sufixe -kug/kuga, (ex.urdu-kuga); -dag)                                          =============================================
NU SANT SIGUR CE REPREZENTAU SEMNELE PE TABLITA DE LA TARTARIA;                             Inclin pentru – casa, templul ( zeului, zeitei )   datorita faptului ca semnul nostru seamana foarte mult cu sum. [Ab  :"templu"]. De-abea mai apoi seamana intrucatva si cu semnul ZAG, "stralucire, metal (lingou)"?….. si in ultimul rand seamana cu vre-o "sacure"  ===============================================                                                      EXCURSUS ASUPRA                                                                                                                   RELATIEI COMPLEXE INTRE NOTIUNI SI VALORI RELIGIOASE SI CULTURALE  DE IMPORTANTA COVARSITOARE REFLECTATE IN SEMNE;                                                        EXEMPLU ICOANA SECURII DUBLE 
Vedeti dumneavoastra, nu securea dubla ca obiect era in focarul spiritualitatii ci simbolul sau. Inca din paleolitic, apoi se poate vedea foarte clar la inceputurile civilizatiei egiptene ca maciuca/buzduganul/eng. mace era simbolul puterii si simbol regal totodata.                                                                                                                         Imaginea https://elearning.salemstate.edu/courses/860796/files/28510459/preview?verifier=NFbGn3SrEGQGDC3UNIjgpNGhiDaPN6DmOg2mFe0w
Molded plaque with a king or god carrying a mace Din http://www.ancientegypt.co.uk/pharaoh/explore/weapo_b1.html
La inceputul epocii cuprului si la fel la cea a bronzului (oriunde in lume!),  datorita putinatatii, metalul era privit ca un material nobil, luciul lui avand un impact psihologic major, iar arme metalice aveau doar conducatorii. De aceea semnul puterii,maciuca sau toporul din piatra a fost inlocuit cu toporul din metal. Astfel s-a pastrat ca simbol al puterii, iar stralucirea in general, a fost asociata atatbcuprului sau bronzului cat si direct cu cea a astrelor si soarelui. La minoani, in foarte multe din locurile unde se desfasurau ritualuri religioase sau gasit semne ale securii duble.De fapt se pare ca era semnul puterii  divinitatii astrale feminine. Divinitatea suprema era asemuita cu soarele. Se zice ca acele constructii subterane labirintice au legatura cu labrysul, in sensul ca etimologia lui labirint vine de la labrys, iar labirintul provine dintr-un cuvant care exprima "casa securii duble"
Etymology https://en.wikipedia.org/wiki/Labyrinth#Etymology
"Labyrinth is a word of pre-Greek origin, which the Greeks associated with the palace of Knossos in Crete, excavated by Arthur Evans early in the 20th century. The word appears in a Linear B inscription as da-pu-ri-to.[9][10][11] As early as 1892 Maximilian Mayer suggested[12] that labyrinthos might derive from labrys, a Lydian word for "double-bladed axe".[13]Evans suggested that the palace at Knossos was the original labyrinth, and since the double axe motif appears in the palace ruins, he asserted that labyrinth could be understood to mean "the house of the double axe".[9] This designation may not have been limited to Knossos, since the same symbols were discovered in other palaces in Crete.[14] However Nilsson observes that in Crete the "double axe" is not a weapon and always accompanies goddesses or women and not a male god. "
Eu n-as prea fi de acord, zic ca mai repede:                                                                          "Beekes finds the relation with labrys speculative, and suggests instead the relation with lavra (λαύρα), narrow street.[16] The original Minoan word appears to refer to labyrinthine grottoes, such as seen at Gortyn.[17] Pliny the Elder's four examples of labyrinths are all complex underground structures,[18] and this appears to have been the standard Classical understanding of the word. It is also possible that the word labyrinth is derived from the Egyptian loperohunt, meaning palace or temple by the lake.  The Egyptian labyrinth near Lake Moeris is described by Herodotus and Strabo. [19] By the 4th century BC, Greek vase painters also represented the Labyrinth by the familiar "Greek key" patterns of endlessly running meanders.
Sau radacina lui merge atat de departe spre nostratica, pana la radacina a lui gauri,gaura:  sum. bur, I.E. bor/bohren/buru-iana
Dar sa revenim; acel semn nu avea deloc rolul sa faca trimitere la vre-o secure concreta, ci era un gen de semn-sigiliu al divinitatii.                                                                                    Acele constructii labirintice, la minoani,                                                                                             " In Greek mythology, the Labyrinth (Ancient Greek: Λαβύρινθος labúrinthos) was an elaborate, confusing structure designed and built by the legendary artificer Daedalus for King Minos of Crete at Knossos. Its function was to hold the Minotaur, the monster eventually killed by the hero Theseus." Numai ca minotaurul are legatura cu taurul, si nu orice taur ce taurul ceresc, soarele.
 NU I-MI ESTE COMPLET CLAR, IN CE MASURA SIMBOLUL SECURII DUBLE ERA AL ZEITATII ASTRALE FEMININE SI IN CE MASURA AL REGILOR (MINOS)                                                                                          Atat la minoani cat si la egipteni erau temple consacrate unei divinitati solare si probabil asemanator sumerienilor, aspectului nevazut al soarelui acela al parcursului subpamantean (la sumerieni NERGAL).                De aceea au construit aceste temple subpamantene ca fiind  casa soarelui in aspectul sau ascuns.Tot acolo au imaginat si egiptenii ca fiind locul trecerii in lumea de apoi.
Din Minoan 'Horns of Consecration' Revisited: A Symbol of Sun Worship In …https://www.academia.edu/…/Minoan_Horns_of_Consecration_Revisited_A_Symbol_…  Minoan 'Horns of Consecration' Revisited: A Symbol of Sun Worship In Palatial …. the significance of the Knossian labyrinth Egyptians deserves a fresh discussion ….. the afterlife; simultaneously, she was arrangement of the specific symbols is .
Din https://www.ancient.eu/Labyrinth/"the word is linked to the Minoan labrys or 'double axe', the symbol of the Minoan mother goddess of Crete,
==================================================                                                    Insa dupa opinia mea, acesta forma nu este intamplatoare, ci este forma constelatiei celei mai vizibile pe firmament, constelatia ORION,                                                                     Din https://lh3.googleusercontent.com/3-3KDonps-H9UAiOMjJyE-bEtDiHsTimAfMXVftKdcLR9QnDc5ZpFKONf7bYf87mUPVNbg=s102
 in aspectul sau
Apare inca din Paleolitic: Din http://rockartblog.blogspot.com/2018/11/another-bogus-paleolithic-star-map-ach.html                                                                                                        "
"Orion is a prominent constellation located on the celestial equator and visible throughout the world. It is one of the most conspicuous and recognizable constellations in the night sky. It was named after Orion, a hunter in Greek mythology. Its brightest stars are Rigel (Beta orionis) and Betelgeuse (Alpha orionis), a blue-white and a red supergiant, respectively.
The earliest depiction that has been linked to the constellation of Orion is a prehistoric (Aurignacian) mammoth ivory carving found in a cave in the Ach valley in West Germany in 1979. Archaeologists have estimated it to have been fashioned approximately 32,000 to 38,000 years ago. The distinctive pattern of Orion has been recognized in numerous cultures around the world, and many myths have been associated with it."
"The Ach Valley Tusk is a piece of mammoth ivory, recovered from Geißenklösterle Cave near Ulm, Germany, that has a human figure carved into one side and a series of 86 pits or notches cut into the other. Rappengluek identified the human figure as a star map representing the constellation Orion."
Constelatie care probabil era perceputa ca salas, loc de rezidenta cereasca a zeilor (asociat cu Usar/Osiris si locul in careajungeau sufletele faraonilor in Egipt)
Din http://www.ancient-wisdom.com/orion.htm
The Ancient Egyptians were the first to write about Orion, and place him into their mythologies. They associate the stars of Orion with Osiris, the sun-god of rebirth and afterlife, and one of the most important gods of the ancient Egyptians. (1)Orion was considered the abode of Osiris following his resurrection. Isis dwelt on Sirius. In Egyptian mythology, Osiris was murdered and dismembered by his jealous brother, Seth, then briefly brought back to life by his sister and consort Isis to father the god Horus. Egyptians saw Osiris in the Moon, whose phases caused the all-important Nile to rise and fall each month, and in the constellation Orion, whose appearance was connected with the annual flood. As god of the dead, Osiris welcomed the recently deceased to their new world.
Sirius, the brightest star in the sky, rises on the eastern horizon just before the Sun once each year. This following a period of complete invisibility lasting about 70 days (during which time it lies in the daytime sky). Egyptian inscriptions describe the last appearance of Sirius in the night sky as its death; its daytime invisibility as purification in the embalming house of the nether world; and its rising with the Sun as a resurrection. Accordingly they calibrated the process of mummification to this celestial cycle, completing it in exactly 70 days.
In the sky, Orion is depicted facing the snorting charge of neighbouring Taurus the Bull, yet the myth of Orion makes no reference to such a combat. However, the constellation can be traced back to the Sumerians, who saw in it their great hero Gilgamesh fighting the Bull of Heaven. The Sumerian name for Orion was URU AN-NA, meaning light of heaven. Taurus was GUD AN-NA, bull of heaven. Gilgamesh was the Sumerian equivalent of Heracles. One of the labours of Heracles was to catch the Cretan bull, which would fit the Orion–Taurus conflict in the sky. Ptolemy described him with club and lion's pelt, both familiar attributes of Heracles, and he is shown this way on old star maps.
=========================================================
Nota                                                                                                                                                       Pe placuta rotunda de la Tartaria, avem un semn, (cel din stanga)
asemanator cu semnul sumerian proto-cuneiform KU:"metal" https://cdli.ucla.edu/tools/signlists/protocuneiform/archsigns.html
Din [PDF]Elementary Sumerian Glossary – bulgari-istoria

[PDF]Sumerian Lexicon – IS MU

by JA Halloran kug, kù: n., silver; precious metal; money; noble (ku, 'to base, build' + aga(3), 'diadem, …
Deci iar este posibil sa avem de lucru daca nu chiar cu metalul atunci cu "lucitor,stralucitor"
A se vedea si Centrul Cultural "Lucian Blaga" Sebeș
REPREZENTAREA UNUI LINGOU DE TIP KEFTIU PE O PLACĂ DE CENTURĂ DIN BRONZ DIN TRANSILVANIA ŞI CONEXIUNILE SALE Cristian Ioan POPA
https://www.cclbsebes.ro/docs/Sebus_6_2014/08_CIPopa.pdf